"When you have more than you need, build a longer table not a higher wall."
Put It On Pete's Tab exists to take care of the people that take care of us, the essential but often forgotten workers in the hospitality industry.


With the help of our amazing community of donors we are able to minimize the financial burden of those within the hospitality industry. We're granting requests to assist with utilities, food, household needs and anything else that presents itself as a barrier to those workers' ability to survive, grow and thrive.
One in six restaurant workers lives below the poverty line, and less than 25% have access to employer sponsored insurance; they make an average hourly wage of $12.91 (tips included), lack paid sick days and retirement funds. Can you see why the workers within the restaurant industry are often one crisis away from financial devastation?
We are here to help
In the 7 months that we were active in 2020, we assisted 73 families in Southwest Florida and Michigan giving out more than $40,000 with the average recipient receiving $550.
But we aren't just paying bills for those in need -
**we sent a Publix gift card to a mom that was struggling with the
decision to buy food for her 5 year old son or pay her rent.**
**We sent diapers and formula to a single mom who couldn't afford
to pay her bills and care of her infant.**
**When a family reached out saying BOTH mom and dad had been
affected by COVID layoffs we posted their "wish list" for back to school
supplies and basic necessities on our Facebook group and it was fully
funded by our community in under 90 minutes.**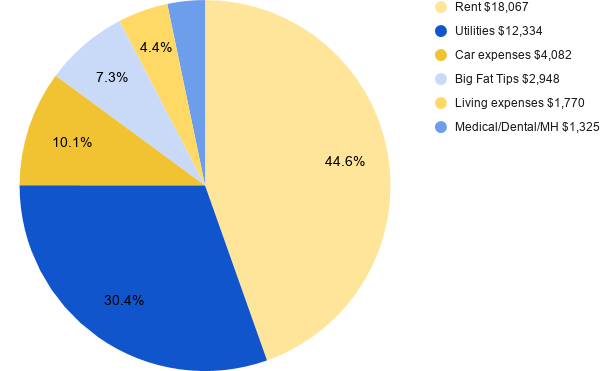 Where our income came from in 2020:
"Hello there! I just wanted to say thank you sooooo much! I got the box of diapers yesterday and the 4 cans of formula came today! You guys are absolutely incredible and I am thankful for this. It's definitely gonna take some weight off my shoulders. Finding out they're stopping the $600 a week for unemployment had me down and worried about bills coming up but this absolutely just turned my day around. Thank you so much again!!"
"It's really hard to express how grateful I am for this group. My family has been through so much unknown frightful territory in the last 5 months. The actions of this group really put a positive stamp over all the negativity in the world right now. My wife and I are both career hospitality workers, parents of 2, had our goals within our grasp. Thank you for helping keep those dreams alive, for us and others. Thank you for including us at Pete's Bigger Table."