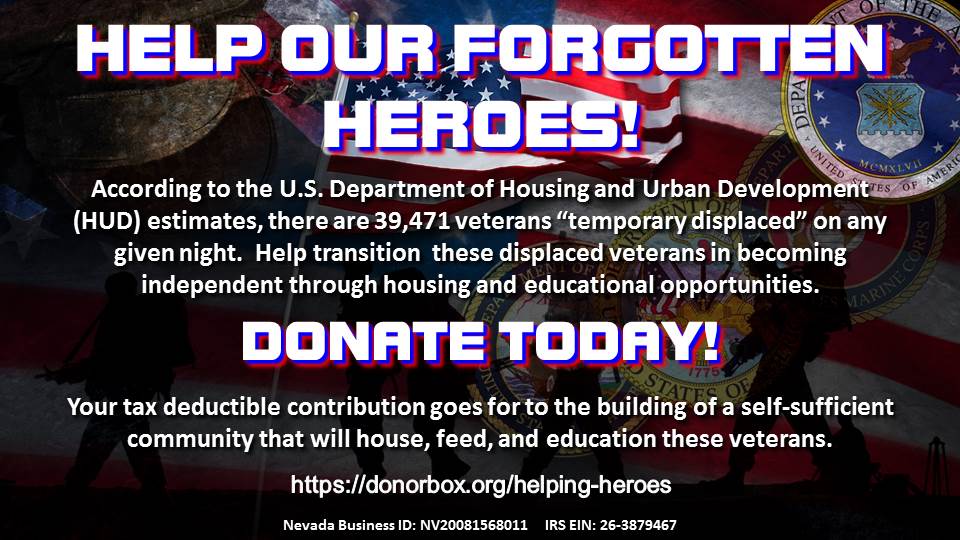 OSTI is developing a program to assist our nation's forgotten heroes. Our objective is to transition these temporary displaced* veterans and other screened individuals to a level of self-sufficiency by providing housing, educational, and eventually employment opportunities. What OSTI envisions is not a typical "homeless assistance" program. Our program will initially provide housing, clothing, food, education, and entertainment in a unique residential and commercial community.
With the cooperation of accredited educational programs, OSTI will offer a professional educational curriculum in a conducive learning environment. OSTI will recruit professionals from each field to instruct and mentor the various subjects. These chosen professionals will be experienced and passionate in conveying their own firsthand knowledge to each student in their chosen field; while employed in an actual REAL WORLD fully functional environment.
The plan is to offer programs in an environment unlike any other, designed to provide not only academic learning but practical experience in the students chosen profession. The overall business goal is to position ourselves as a recognized leader in assisting students with the training and experience to fulfill their dream of financial independence.
Now let's imagine –
You and your family check enter the hotel and are greeted by the friendly clerk. They had you a key to your room. As you enter your room, you realize that this is no room you've ever stayed before. There's a hand pump next to a bowl on a wooden counter, mirror hanging above it and a brass bed just off to the side. You sit down for a moment to relax a little from the modern day's travel.
As you and your family take that first step outside your hotel, you see McClean's General Store across the street. It's an old western town, but wait it's not old and run down, it's actually thriving as locals exit with their days supplies. You proceed to look left down the dirt street to see a newspaper office with the latest local news, a bank, small school house and even a candy store with homemade candies. You turn your attention to the right to find even more. There's a wood carver creating a one of a kind figure, leather crafts, jewelry store, pharmacist with real old fashion malts, and even a wedding party outside the church. Even further down the street you can see cowboy's riding out past the livery stable, a freight/post office, a blacksmith pounding away, and a wagon being loaded at the feed and grain store.
Being unaccustomed to this environment you step out in amazement onto the boardwalk and stroll towards the livery stable for your families day of adventure.
As you have just imagined, this is no ordinary town, families will actually live the experience. During a families stay, they become the experience. Families can participate in a multitude of activities including hand crafted workshops, just stroll through town, hike multiple trails, go fishing, or sit and watch the wildlife go by. Vacationing guest can design their experience that meets their needs.
Unlike other similar attractions, there will be no entry fee for a day's experience. Guest can spend the night or a multiple nights in the old west themed hotel or the bunkhouse out on the ranch. The vision is to create a place where you and your family can step back into time and experience a period in this country when families spent quality time together. Create everlasting wholesome memories of a time that was thought to be forgotten, a time not too far in our countries past. No cars, no cell phones, no television, computers, no texting, an experience that will be remembered for the rest of your life.
This is a living history experience for town's folk and guest alike. The old west family experience will include but not limited to:
Horseback riding

Cattle drives

Western dining

Cowboy games

Sing-alongs

Basket weaving

Pottery making

Candy making

Jewelry making

Ice cream making

Gold panning

Blacksmithing

Fishing

or just the ambiance of an 1880's era western town
Unlike other western attractions, businesses will operated by some of the finest craftsman and old west enthusiasts and displaced veterans, to share and sell their crafts to the guests. The town is intended to be a living breathing town with a population of 100-150, that has remained in the 1880's.
At first this program may appear too tall a dream! However, as veterans ourselves, we are accustomed to achieving the unachievable and we remain dedicated to and are extremely optimistic this program will surely succeed. We've done our research and feasibility studies and we are enthusiastic and confident that a program like this is a worthy cause.
The concept is simple; people thrive on the American Wild West, as a premier destination, families will line up to experience the American west. For displaced veterans, a place to live while they transition back to civilian life. Veterans will no longer be sleeping in their cars and under bridges, all while gaining new skills. This is not a handout, this is a hand up. The displaced program is designed to be completed within 24 months and can be completed in 12 months. Upon completion each participants will have, on average, a minimum of 1500 hours of education and work experience, so they minimize their chances of hearing "…you lack the experience..."
Through the "Program" OSTI's will build and establish what will become a nationally recognized Veterans Vocational / Training Institute. Participants enter a business or vocational training program or both if they desire. Then they build on and obtain the necessary knowledge, and follow up with working in their desired field of study within Legacy Junction the "Town" acquiring the necessary employable skills and experience employers are looking for.
Some of the courses to be offered include:
Construction

Cooking

Furniture and Cabinet Making

Home Remodeling and Repair

Hotel/Restaurant Management

Human Resources

Plumbing

Residential Electrician

Retail

Small Business Management
Our vision reflect our values based on the H.I.R.Ed. principle:
Honor – Those who have made the sacrifice
Integrity – Do what's legally and morally right
Respect - Treat people as they should be treated
Education – Help those gain the knowledge and skills to succeed.
Allowing them to be more determined, hopeful, or confident.
Going by the market survey and feasibility studies conducted, we came to the conclusion that we will need an average of $2,000,000 to really develop and launch Legacy Junction. The $2,000,000 is considered to be the seed money (one-time contribution).
We are sincerely asking for your generosity to honor those who have been displaced. We are not seeking any funds from government entities, so your support is crucial. Please find it in your heart and donate today and change the lives for millions of displaced and guests alike.
*We have chosen the phrase "Temporary Displaced" over "Homeless" believing that the phrase is more positive; whereas the phrase "Homeless" denotes and has the appearance of a negative image.