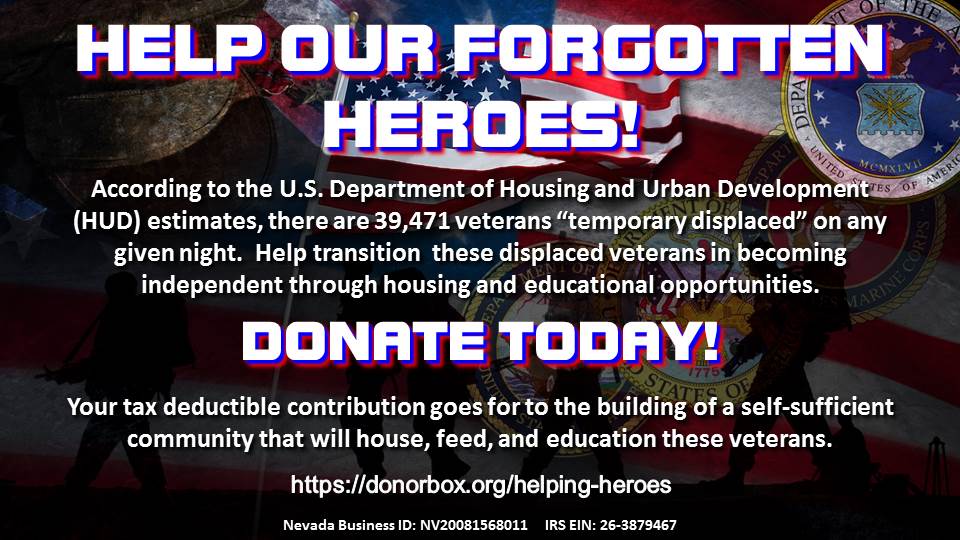 Many of our young veterans come out of the military service with no training or skills which easily transfer to civilian life. They can't compete in the working market! They find it difficult to get hired! If they have NO SUPPORT within a few months they're sleeping in their cars, under bridges, or in a shelter. No one who fights for this country should have to fight for a job, or to put a roof over their heads and provide for their family.
Look around, the price for our freedom is still being paid by our Homeless, Unemployed and Disabled Veterans… sometimes whom we call this nations "Forgotten Hero's."
OSTI is currently working on a project that aims to assist these forgotten hero's on a positive path to future financial stability while enhancing their ability to become productive members of society and to make positive contributions to their community; wherever they choose to reside and work.
In order to make a difference, we rely on the support of generous individuals and business in our community.
OSTI is developing a program to assist our nation's forgotten heroes. Our objective is to transition these temporary displaced* veterans and other screened individuals to a level of self-sufficiency by providing housing, educational, and eventually employment opportunities. What OSTI envisions is not a typical "homeless assistance" program. Our program will initially provide housing, clothing, food, education, and entertainment in a unique residential and commercial community.
With the cooperation of accredited educational programs, OSTI will offer a professional educational curriculum in a conducive learning environment. OSTI will recruit professionals from each field to instruct and mentor the various subjects. These chosen professionals will be experienced and passionate in conveying their own firsthand knowledge to each student in their chosen field; while employed in an actual REAL WORLD fully functional environment.
The plan is to offer programs in an environment unlike any other, designed to provide not only academic learning but practical experience in the students chosen profession. The overall business goal is to position ourselves as a recognized leader in assisting students with the training and experience to fulfill their dream of financial independence.
Our vision reflect our values based on the H.I.R.Ed. principle:
Honor – Those who have made the sacrifice
Integrity – Do what's legally and morally right
Respect - Treat people as they should be treated
Education - Provide the knowledge and skills to be successful.

We believe these values encourage those to be more determined, hopeful, or confident
Going by the market survey and feasibility studies conducted, we came to the conclusion that we will need an average of $2,000,000 to really develop and launch this project. The $2,000,000 is considered to be the seed money (one-time contribution).
We are sincerely asking for your generosity to honor those who have been displaced. We are not seeking any funds from government entities, so your support is crucial. Please find it in your heart and donate today and change the lives for millions of displaced and guests alike.