13/05/2021
Food distribution activities
These are pictures of some of the food distribution activities for vulnerable communities from our partners in Uttarahalli in Bangalore, Agratha Kreeda Foundation and youth voluntary organisation Yuvaratha. They have served 225,000+ meals, 2,500+ grocery kits, 1,000+ medical and sanitation kits during the pandemic so far. They are also coordinating with different hospitals and the local government body, BBMP, to accommodate 500+ patients a day in desperate need of hospital beds, oxygen and blood plasma facilities.
13/05/2021
Food distribution to quarantined people
Some of our Covid relief donations have been towards food distribution to people quarantined because they are Covid+, in Muzaffarpur and Patna in Bihar.
Bridge India has been focusing its efforts on hard-to-reach areas like this, where our funds can make a huge difference to people on the ground.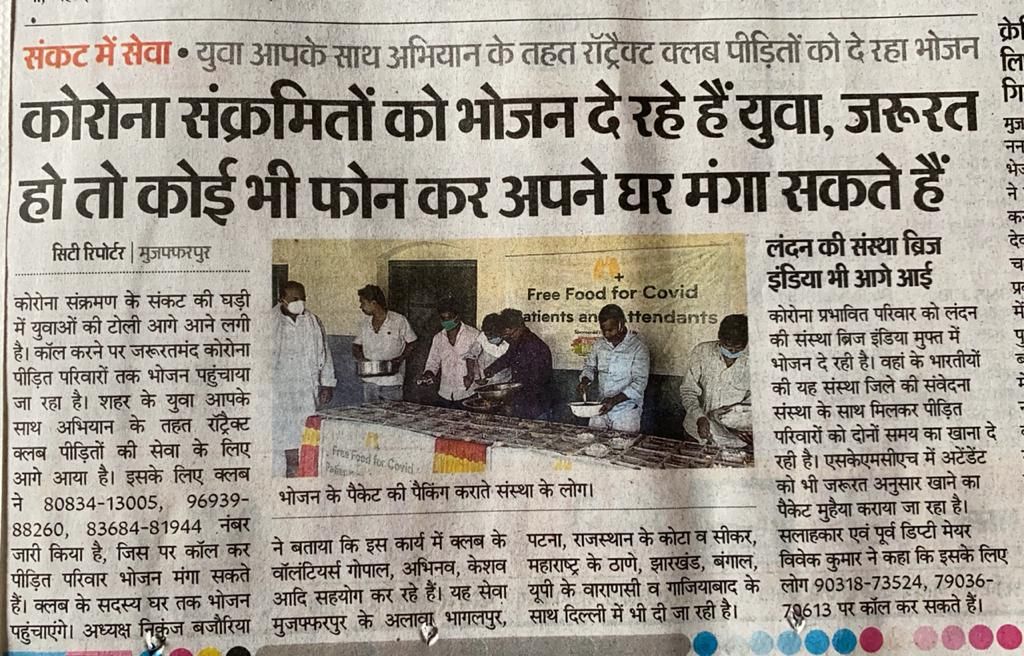 13/05/2021
Building and maintaining a 20-bed centralised oxygen facility
Some of our Members have assisted in building and maintaining a 20-bed facility in Sarkhej, with a centralised oxygen facility.
India needs your help. Donate to our Covid Appeal fundraising now.
13/05/2021
Helping those less fortunate in India
Thanks to your generosity and commitment to helping those less fortunate in India over the last few days, we're delighted to announce we're running or supporting Covid Relief projects across India, including in Gurgaon, Patna, Muzaffarpur, South Bangalore, Sareikela Kharsawa in Jharkhand and elsewhere.

Deaths in India are likely to be massively under-reported. Whatever we see on our TV screens from big cities like Delhi and Mumbai, the reality in smaller towns and rural areas away from the illuminating effect of the media, is likely to be much worse.

With this in mind, we've been focusing on hard-to-reach areas. These are some of the images from our food distribution project in Muzaffarpur in Bihar. We track our donations on the ground, so donors know their funds are being utilised effectively and creating real impact.

Help us help those less fortunate than us in India. Donate now