Welcome to the 'Friends of VegfestUK' initiative, set up in the wake of the Covid-19 crisis which has seen Conferences and Exhibitions closed for an indefinite period.
VegfestUK has moved online with a series of free events as we await a return to live events, potentially in 2022
Our first online event Summerfest Online was hosted August 14th 15th 16th 2020, free to attend for visitors, with a wealth of educational material surrounding veganism with a focus on a myriad of topics from a number of esteemed guest speakers and presenters.
A number of other online events are planned including VegfestUK Online/Wildlife November 14th 15th 2020, VegfestUK Online/Animal Rights December 12th 13th 2020, VegfestUK Online/Activism January 30th 31st 2021, and Plant Powered Expo Online March 19th 20th 21st 2021
If you would like to support our work, or express appreciation for VegfestUK Online after visiting, you are welcome to become a 'Friend of VegfestUK' and make a regular (or one-off) contribution to the running of the event, the office and the vegan educational content we provide.
Please do share with your friends and colleagues. Your contribution will be very welcome and very much appreciated.
Virtual Ticket
VegfestUK Online Events are free to attend, but we rely on the generosity and support from a number of people to ensure the events take place. If you would like to support the event, you are welcome to purchase a 'Virtual Ticket' priced £5 from this page. Thankyou!
You can sign up to stay in touch with our news via our ebulletin here, and access our Facebook, Twitter and Instagram accounts, all of them regularly updated with news and views and vegan information.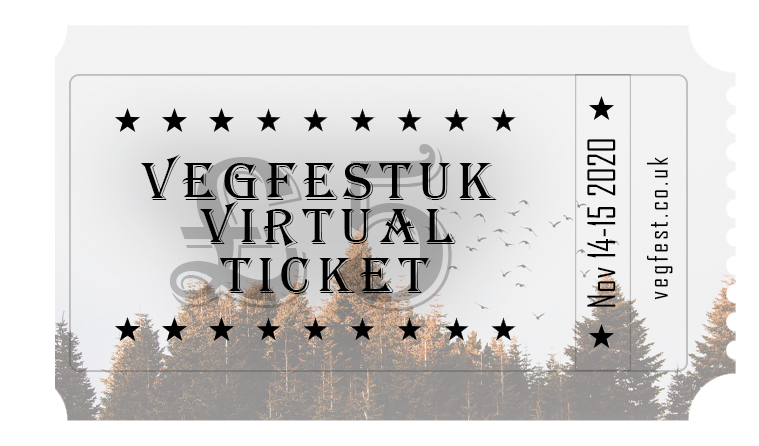 Choose amount
Information
Payment






