Choose amount
Information
Payment







A fund inspired by HOPE. Pictured: Mono and his owner Sam Hope accompanied by Georgie Hollis and Professor Derek Knottenbelt who performed and taught Sam's Vets how to graft by using Mono's wounds.
About Mono:
Mono is a beautiful, kind horse that after a career in the Polo field had a gentler life with Sam Hope. Sam is a qualified veterinary nurse and lives on a farm so is no stranger to the benefits of insurance. However, at 17 years young and with an athletic history, Mono was effectively uninsurable. Sadly, Mono managed to injure himself one day catching his hind legs on fencing in his field. What initially looked like superficial abrasions soon deteriorated as the tissue sloughed away leaving Mono with a massive tissue deficit in an area that is notoriously difficult to heal.
Sam raised every penny she had to pay for Mono's recovery working tirelessly with Vet Kathryn Tuckett and the team at Wendover Heights Veterinary Centre to try to heal Mono's wounds. As members of the Vet Wound Library Kathryn contacted us to get advice on the best options for management and to see if there were any new techniques available that could speed up the healing process and reduce the long term costs to Sam and to get Mono back in action.

All the cases helped by the Vet Wound Library are done so on the basis that we help clinicians to achieve the 3 aims of wound management:
1. A functional, cosmetic repair. Where the proper function of the skin and scar tissue is a priority.
2. Relief of pain and distress to avoid unnecessary suffering.
3. To achieve a rapid return to normal use by helping to find the most effective route to wound closure.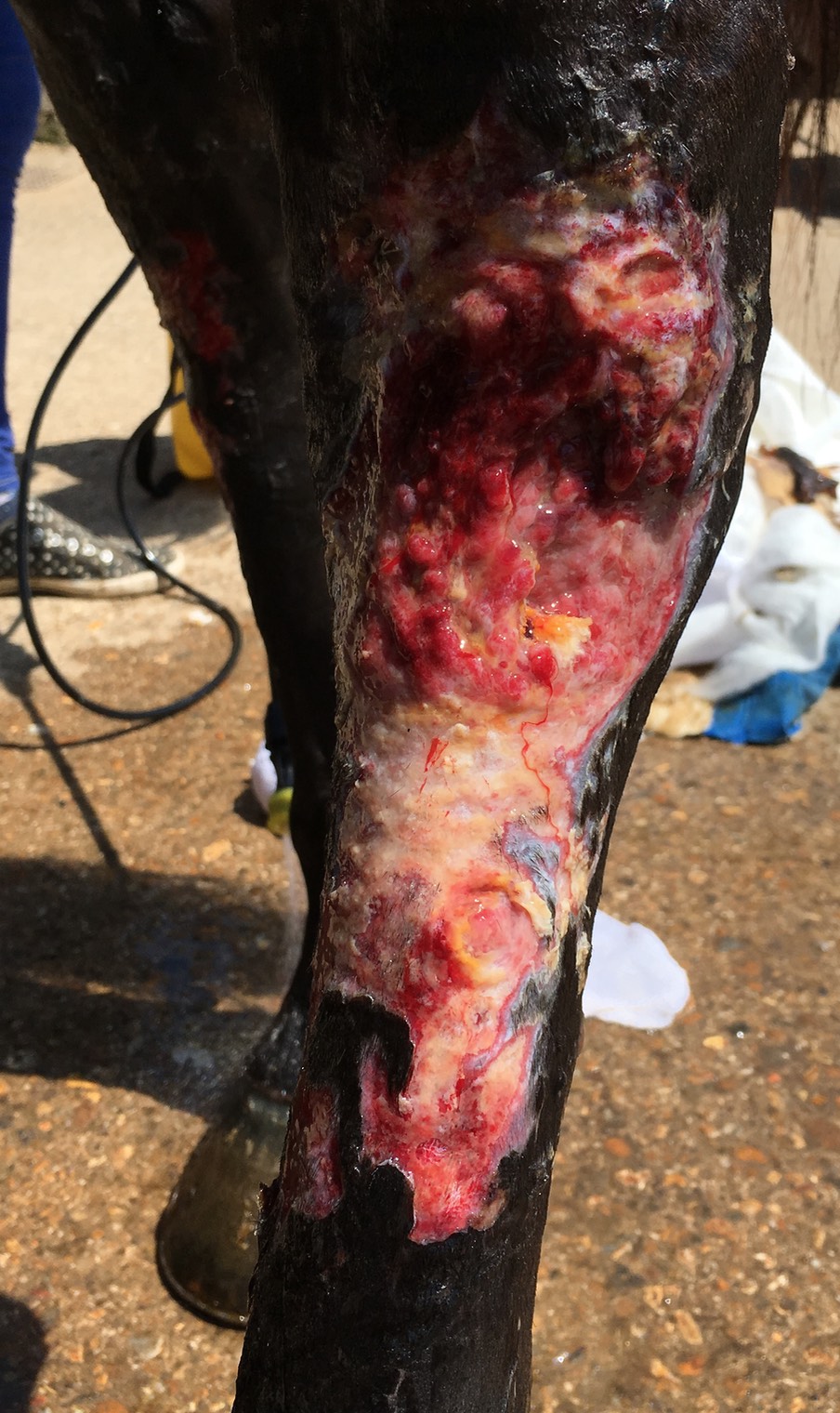 In Mono's case Georgie Hollis (founder of the Vet Wound Library) proposed that Mono may need skin grafts to achieve the best outcome based on the 3 aims of wound management. But the funds available at this stage were extremely limited and would not cover the costs of the procedure. Furthermore it is a procedure that relies upon technical expertise and confidence to prepare the wound, place the grafts and ensure optimal take through careful aftercare.

Having seen similar scenarios in practice Georgie suggested that with the support of Professor Derek Knottenbelt that Mono be used to train the practice to master the art of skin grafting. By using Mono as an educational opportunity for the practice and with Sam's consent the procedure was performed at cost while the practice covered the cost of training. Ongoing support was provided by the Veterinary Wound Library. Not only did the practice gain new expertise that would be of benefit to future patients but Mono and Sam got the surgery that was needed.

The need for a HOPE fund
We (The Vet Wound Library) see cases like this frequently. That is where insurance monies are not enough to cover either referral, technologies, or reconstruction methods that will get the patient back to health most quickly. Grafting and basic reconstruction are techniques that we believe can transform the healing process from one that can take years to just weeks. Sadly when funds are limited we find that the surgical options can be considered too complex or costly meaning that the only option is to leave wounds to heal naturally over an extensive period of time at the expense of the welfare of the patient. Alternatively the option may be to put the patient to sleep. By supporting cases like this we hope to teach more practices how to better manage these wounds, while providing support for those cases that will benefit from specialist help.
Our First Candidate: We have our first candidate for the fund, it is Mono himself. An area remains that would
benefit from a further round of grafts and we would like to cover the costs as a thank you to Sam for being an inspiration. It is 1 year since the original grafts were placed at the lower part of the wound. At the time, the tissue higher up was not suitable for grafting. This area is now ready and rather than taking what may be years to heal naturally we could help reduce this time significantly. We would like to cover these costs for Sam and get her and Mono back on their feet as a thank you for their inspiration and for showing us what can be achieved given some support from the right people.
Your Support: Any support for our fund will be spent purely on helping cases like this. Funds will be used to pay for specialists to travel to practice, for specialist equipment that may be required, or to contribute to the costs of care where a benefit in doing so is clearly made.
All the cases we support are overseen and managed as part of the Veterinary Wound Library specialist support service. Practice membership is required and case progress may be filmed or documented for educational purposes.
For further information on the Veterinary Wound Library and what we do visit: www.vetwoundlibrary.com