"A New Beginning" - the last composition of the symphony.
Photo Credit: Elina Daujotė & Polina Butkienė
---
UPDATED // ATNAUJINTA // ОБНОВЛЕНО - 05.04.2022
🇬🇧 🇱🇹 🇷🇺
---
Donate & Get Free MP3 Download // Paaukokite ir Nemokamai Parsiųskite MP3 // Поддержите и Бесплатно Получите МР3
---
Symphony from Jerusalem of the North with Yaron Cherniak from Israel!
(🇱🇹skaityti žemiau; 🇷🇺читать ниже)
This year, on the occasion of the 80th anniversary of the Holocaust, Jievaras Jasinskis, one of the most promising composers of the young generation in Lithuania, and Tadas Daujotas, the author of the project who is also playing an ancient Hebrew instrument - shofar, created an unprecedented musical project "Symphony from Jerusalem of the North".
The hour-long masterpiece was performed by St. Christopher Chamber Orchestra, also classical, jazz, and folklore musicians, and multi-instrumentalist from Israel Yaron Cherniak. The premiere of this exceptional project took place at the courtyard of the Presidential Palace on the 23rd of September 2021, which is National Memorial Day for the Genocide of Lithuanian Jews. The event was broadcasted live on National TV:
Our sincere gratitude goes out to everyone who has been involved in the project! With your help, we have already managed to raise almost 84% of our budget and release this authentic album but there are still some outstanding costs remaining. So, please help us to spread out the word and become part of it yourself.
Do you want to be a part of this project?
The total budget of the project is 62,323 euros and will cover:
• Album production and recordings in a professional studio (15 parts contemporary symphony);
• Stage, lights, LED screen, and concert sound with live TV;
• Royalties to chamber orchestra and instrumentalists (30 musicians in total);
• Arrival and accommodation costs of Yaron Cherniak;
• Professional album compilation and mastering;
• CD production.
Your contribution towards this bespoke project is highly appreciated!
More detailed information: https://www.orkestras.org/en.html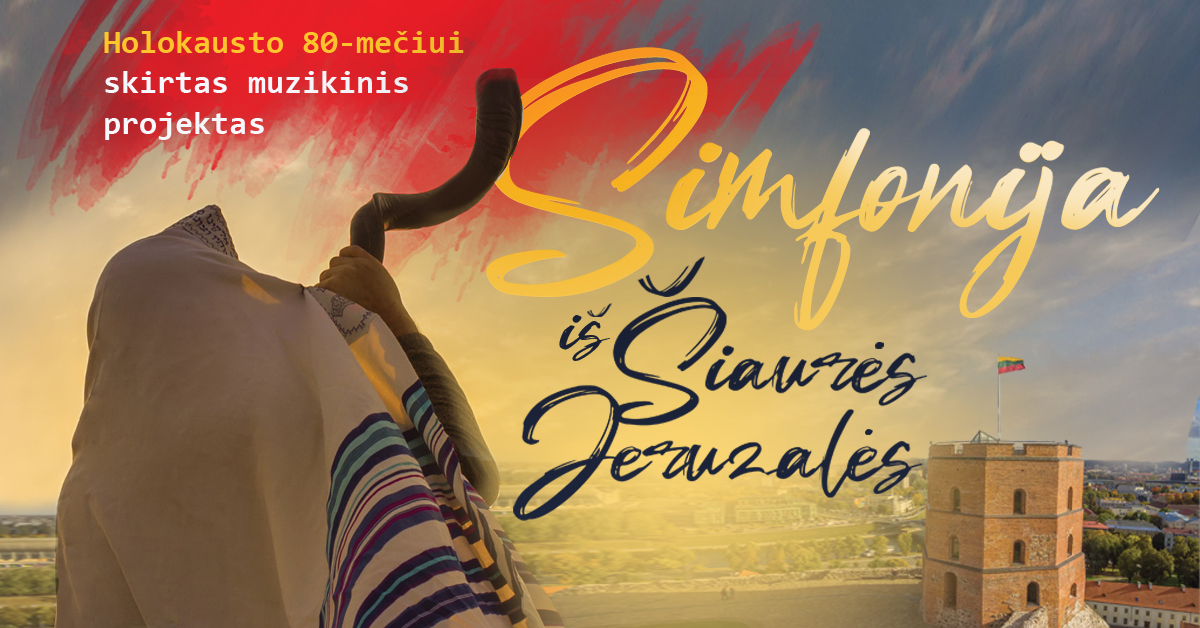 ---
🇱🇹
Simfonija iš Šiaurės Jeruzalės su Yaron Cherniak iš Izraelio!
Šiemet, minint Holokausto 80-metį, vienas perspektyviausių jaunosios kartos kompozitorių Lietuvoje Jievaras Jasinskis ir senoviniais hebrajų instrumentais šofarais grojantis, idėjos autorius Tadas Daujotas, sukūrė analogų neturintį muzikinį projektą "Simfonija iš Šiaurės Jeruzalės" ("Symphony from Jerusalem of the North").
Valandos trukmės kūrinį atliko Šv. Kristoforo kamerinis orkestras, kviestiniai klasikos, džiazo ir folkloro muzikantai bei multiinstrumentalistas iš Izraelio Yaron Cherniak. Šio išskirtinio projekto premjera įvyko 2021 m. rugsėjo 23 d., minint Lietuvos žydų genocido dieną LR Prezidentūros kieme. Renginį transliavo LRTplius:
Nuoširdžiai dėkojame visiems, dalyvavusiems projekte! Jūsų dėka mums jau pavyko surinkti beveik 84 % biudžeto ir išleisti šį autentišką albumą, tačiau vis dar liko neapmokėtų sąskaitų. Todėl šiandien kviečiame jus prisijungti prie gausaus projekto partnerių būrio bei pasidalinti šia informacija su savo draugais.
Ar norite būti šio projekto dalimi?
Bendras projekto biudžetas yra 62 323 eurai, kurį sudaro:
• Albumo sukūrimas ir įrašai profesionalioje studijoje (15 dalių šiuolaikinė simfonija);
• Scena, šviesos, LED ekranas ir garsas koncertui su tiesiogine TV transliacija;
• Honorarai kameriniam orkestrui ir instrumentalistams (iš viso 30 muzikantų);
• Yarono Cherniako atvykimo ir apgyvendinimo išlaidos;
• Profesionalus albumo suvedimas ir masteringas;
• CD gamyba.
Jūsų indėlis į šį projektą mums yra labai reikšmingas.
Detalesnė informacija: https://www.orkestras.org/simfonija.html
🇷🇺
Симфония из Северного Иерусалима с Яроном Черняк из Израиля!
В этом году по случаю 80-летия Холокоста, Eварас Ясинскис, один из самых многообещающих композиторов молодого поколения Литвы, и Тадас Дауйотас, автор идеи и трубач древнееврейского инструмента - шофара, создали неимеющий аналогов музыкальный проект «Симфония из Северного Иерусалима».
Часовое произведение исполнили Камерный Оркестр Св. Кристофора, а также классические, джазовые и фольклорные музыканты и мульти-инструменталист из Израиля Ярон Черняк. Премьера этого исключительного проекта состоялась во дворе здания Президиума Литовской Республики 23 сентября в 2021 году в ознаменование дня геноцида литовских евреев. Мероприятие транслировалось по LRT Plus:
Выражаем искреннюю благодарность всем, кто принимал участие в проекте! С вашей помощью нам удалось собрать почти 84% от всего бюджета и выпустить этот аутентичный альбом, однако остались еще некоторые неоплаченные расходы. Поэтому будем признательны, если поможете распространить эту информацию и сами станете частью этого проекта.
Хотите стать частью этого проекта?
Общий бюджет проекта составляет 62 323 евро, который включает:
• Изготовление и запись альбома в профессиональной студии (современная симфония из 15 частей);
• Сцена, свет, светодиодный экран и концертный звук с живым телевидением;
• Гонорары для камерного оркестра и инструменталистов (всего 30 музыкантов);
• Стоимость приезда и проживания Ярона Черняка;
• Профессиональное составление и мастеринг альбомов;
• Производство компакт-дисков.
Ваш вклад имеет огромное значение в осуществлении этого грандиозного проекта!
Более подробная информация: https://www.orkestras.org/ru.html