❤️ Support the mission of Out Our Front Door ❤️
As an all-volunteer based nonprofit organization, Out Our Front Door's mission is to immerse, educate, and preserve the history, culture, trails, and native habitats of the Lower Lake Michigan Basin Area through exploratory adventures. Established in 2015 with the North Loop Ride, we now have many different resources, events, and programs we offer the public.
Adult Bike Camping Trips
We lead more than 15 guided tours throughout the year we go on bike camping trips to the surrounding State, County, and National parks. We bike, have fun, and along the way we break and talk about the region. With trips for the beginner to the seasoned-pro, we like hanging out and showing people a good time. Hers's a Full list of our upcoming bike camping trips for this year
Family Program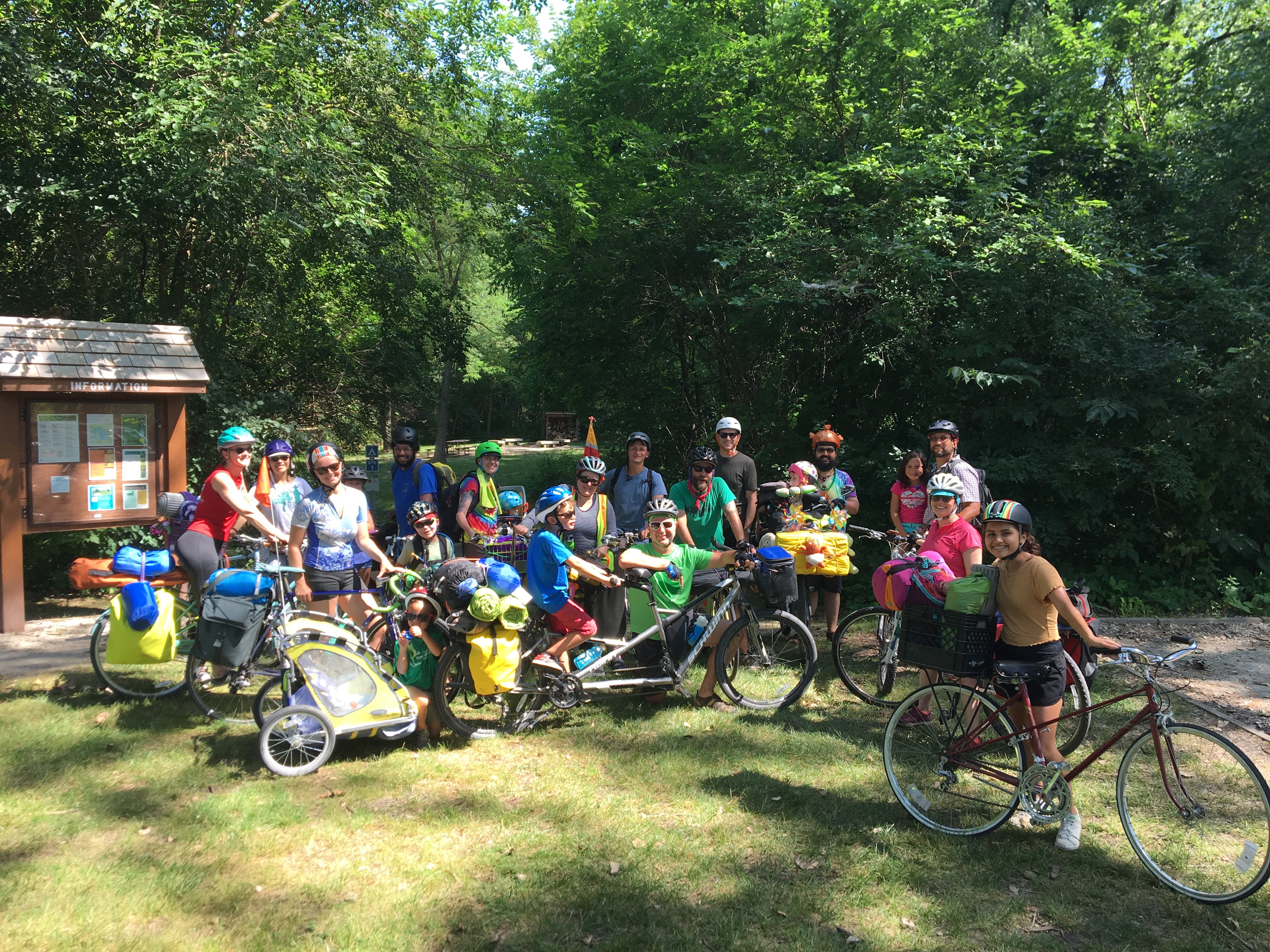 The Family Adventure Program are for parents and children. It's a great way for your family to experience a weekend camping adventure right from your own front door. Kids get to make new friends, explore, and learn. We also make these trips accessible for families by providing weekend family-specific bike rentals, which are best for carrying your kids and camping gear on two wheels through our friends at Four Star Family Cyclery. Families new to riding can practice before the trip with the Chicago Family Group on their afternoon bike rides. Check out some of our Upcoming Family Bike Camping trips to learn more.

Youth Program
The youth and student program is an environmental education curriculum which connects youth & students to their local ecosystems and history through meaningful and sustained interactions by bike. The program is designed for high school students and youth who will carry the environmental sustainability momentum into the next generation. Currently the program is in partnership with Blackstone Bikes, West Town Bikes, The Recyclery, and Working Bikes.

The curriculum is aligned with the Service Learning requirements for CPS high school students and creates a leadership development pipeline that gives excelling youth opportunities to grow personally and professionally into the conservation and environmental field.

Where the Wild Things Grow
These are short, easy paced rides (8-15 miles r/t, 10-12 mph) to go do environmental service for 3 hours in native habitats. Welcome to join to grab lunch and even a beer afterwards (if you're of age, of course).
Choose amount
Information
Payment






