Apri la scuola Ma'an insieme a noi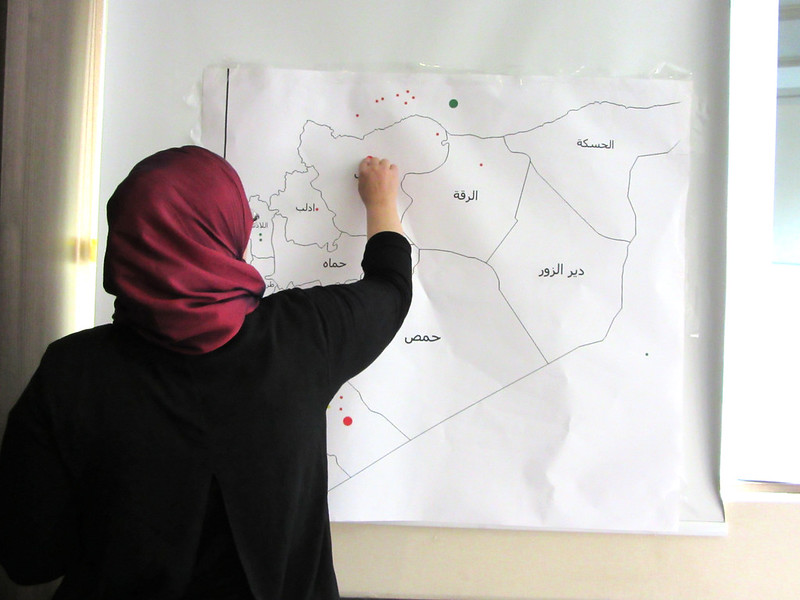 Photo credit: U.S. Institute of Peace

AIUTACI AD APRIRE MA'AN!
In Siria stiamo progettando l'apertura di Ma'an, una scuola per i bambini e le bambine dai 10 ai 14 anni.
Nella regione di Al-Dana accoglieremo studenti che sono scappati da altre città bombardate e distrutte dalla guerra, insieme ai bambini del posto che vivono in condizioni di povertà e senza una vera scuola da anni. Nel nostro centro i ragazzi potranno frequentare lezioni di inglese, arabo e matematica e faremo il massimo per restituire loro l'infanzia che gli è stata negata. Distribuiremo agli studenti il pranzo e i materiali scolastici e consegneremo alle loro famiglie pacchi alimentari e prodotti per l'igiene.
In arabo "Ma'an" significa insieme, e anche questa volta siamo certi che insieme a te possiamo fare la differenza. Questi bambini meritano opportunità e noi siamo pronti a donargliele.
---
Il nostro team sul campo è impegnato nelle operazioni che ci consentiranno di aprire Ma'an nei prossimi mesi. Abbiamo calcolato che il budget necessario all'apertura della scuola è di 10.000 euro:
3.500€ per affittare l'edificio che ospiterà il centro educativo e pagarne il deposito

1.200€ per dotare Ma'an di una cucina e per la ristrutturazione

200€ per gli allacciamenti

3.400€ per arredamento e attrezzature per le aule

700€ per cancelleria, materiali per l'insegnamento e prodotti per le pulizie per i primi sei mesi

1.000€ per spese di avviamento del progetto
Ti va di sostenerci e di unirti a noi per portare il vento del cambiamento in uno dei luoghi in cui un bambino non dovrebbe mai crescere?
---
HELP US TO OPEN MA'AN
In Syria we're working to open Ma'an, a school for children aged 10 to 14.
In the Al-Dana area, we will welcome students, both from the local area and internally-displaced refugees from other war-torn parts of Syria. We will offer lessons of English, Arabic and mathematics, and through our center, we will try our best to give them back the childhood of learning and fun they deserve. We will offer lunch and stationary to students, and will distribute food and hygiene packs to their families. We are opening this center because these children deserve the opportunity to learn and to have a better life.
Ma'an means together in Arabic, and together we are ready to make change!
---
Our on the ground team is ready to begin the process to open the center.
10.000 euro is the total budget needed to open Ma'an:
3,500 for the deposit and rent of the building

1,200€ for renovations and a kitchen

200€ for utilities

3.4000€ for furniture and classroom supplies

700€ for stationary, teaching materials and cleaning supplies for the first six months

1,000€ for general expenses and taxes
Are you ready to rise with us, to help change the lives of children who need our support?
Choose amount
Information
Payment






