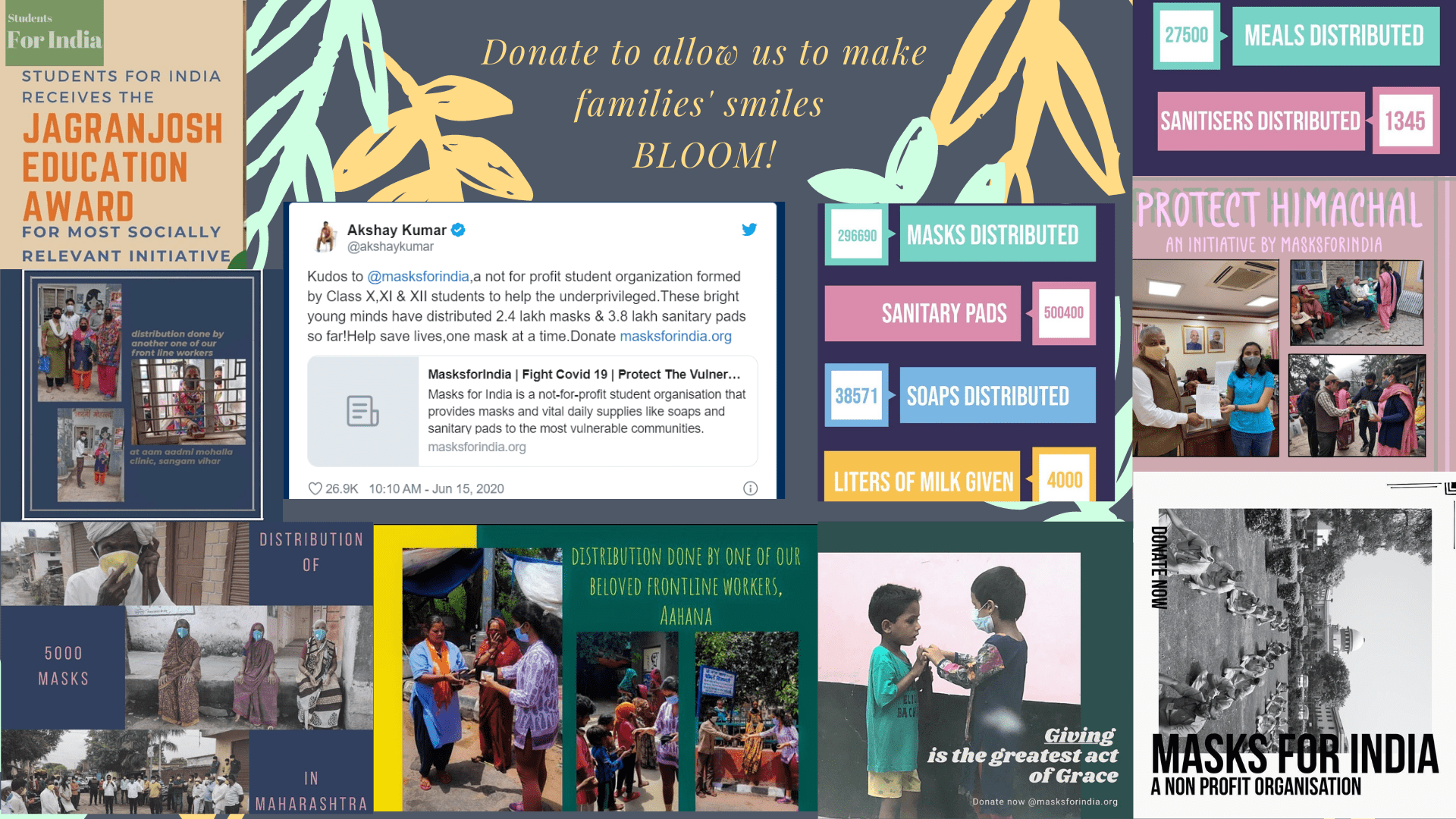 Help us raise 4 lakhs to enable the villages surrounding and the village of Kheri Khalan to permanently access high quality affordable menstrual hygiene products! Help us set up a centre that will be owned and operated by local women (with help from us) to make their financial independence a reality!

The SPAD (Sustainable Pad Awareness & Distribution) project by 11th grade students Aahana Garg and Maahir Gupta under Students For India is being launched with a partnership with the Karm Marg NGO and Pinkdays Pads. The aim is to establish a centre as a cottage industry for manufacturing of high quality, biodegradable and affordable pads in the village of Kheri Khalan, and carry out various awareness programs and subsiding their prices to enable their distribution. The centre will be owned and operated by a self help group of women from the area, adding sizeable supplementary income. This will be supervised under the able supervision of the Students For India and Karm Marg teams. This will also help in creating a resilient localised supply chain in their community in case of crisis.
Your donation will be used for providing the required machinery and initial raw material to the women's self help group to get the program running. Already we have begun engaging in surveys and awareness ground work to set the stage for the main stage of the program: in the setting up of the manufacturing centre. We're counting on you, our donors, to enable us and these women to get there! We're counting on you to ensure more than a dozen women can have access to a living wage and income and a village, and it's surrounding villages an area to high quality affordable sanitary pads.
These pads are SUSTAINABLE, since they are biodegradable!
Each donor shall receive a report within a month of the exact allocation of their donation to the project with appropriate pictures of the installation.
For any questions or to get involved, please feel free to email [email protected].
For regular updates, please visit our Instagram- www.instagram.com/studentsforindia
Website- www.studentsforindia.org
Currently, we're engaging in smaller-scale distribution in the area and awareness drives in preparation for having a functioning centre by March. This centre will also be used to support distribution and awareness programs regarding menstrual hygiene products in other areas of need and support other NGOs.
Students for India
StudentsforIndia, formerly MasksforIndia, is a student-led non-profit organisation that has aided over 50,000 families during the CoVID pandemic by procuring and distributing essential supplies including masks, sanitary pads and meals. An ever-growing team we've had over 500 students from across India from the Northeast to Delhi to Chennai in the South. We've worked with the police, other non-profits, and gotten over 10 lakh essential articles to families in need over the course of the pandemic. Our on-ground operations have ranged across 12 states and union territories from Delhi NCR to Bihar during the floods to rural Maharashtra. In addition to this, we've made headway in awareness operations with our partners and helped connect COVID patients with resources during the heyday of the second wave. We have been recognised by the Delhi Police and the Union Minister of State Retd. Gen V.K Singh and the Dainik Jagran, NDTV, CNN TV 18 among other media organisations.
Karm Marg
Karm Marg is essentially a home for children, one that provides them a safe refuge, a family-like atmosphere and opportunities for education, skill development and employment. Their main spheres of work are –
The running of the home, maintaining a safe environment and providing hygienic facilities to an average of 60 children of all ages, including six special children.

Providing skills and income generation programmes for the children and alumni of KarmMarg, as well as for the women who live in villages nearby. Over 100 alumni presently hold different jobs – some in offices, some with their own business and some working for KarmMarg and Jugaad. At Jugaad, over 200 village women have been trained so far. Presently, 70 women are employed there.
Pinkdays
Pinkdays' mission is to eradicate use of synthetic sanitary napkins from our country by creating hygienic organic products that are good for self, society and environment along with spreading awareness about periods and to be normal about it!
They manufacture and distribute high quality organic pads across the country.