Support Youth Arts Now and in the Future!
*PRYAF is moving forward stronger than ever with our new Virtual Studio online class engagements to continue to support our community youth during the COVID-19*
Have you visited Paso Robles Youth Arts Foundation (PRYAF) or been an audience member at a
performance this year? If so, you know that PRYAF is an important community resource, not just an after-school drop-off. It is an experience, a beloved home for the arts, and most importantly, a creative outlet for young artists and performers from across San Luis Obispo County and even beyond! PRYAF welcomes nearly 400 students, quarterly, from all neighborhoods and walks of life, to their choice of 50 FREE, Visual & Performing Arts Classes per week. Classes include Art, Theater, Music, Dance, and Creative Enrichment at all levels, for ages 5-18 years old.
Your gift today will change lives! In the 1 st session of 2020, there were 172 students on waiting lists! Please help us serve these deserving youth. Together, we can ensure that classes are available to all students who wish to enroll, and that finances are not a barrier to finding one's voice.
Thank you for giving Today!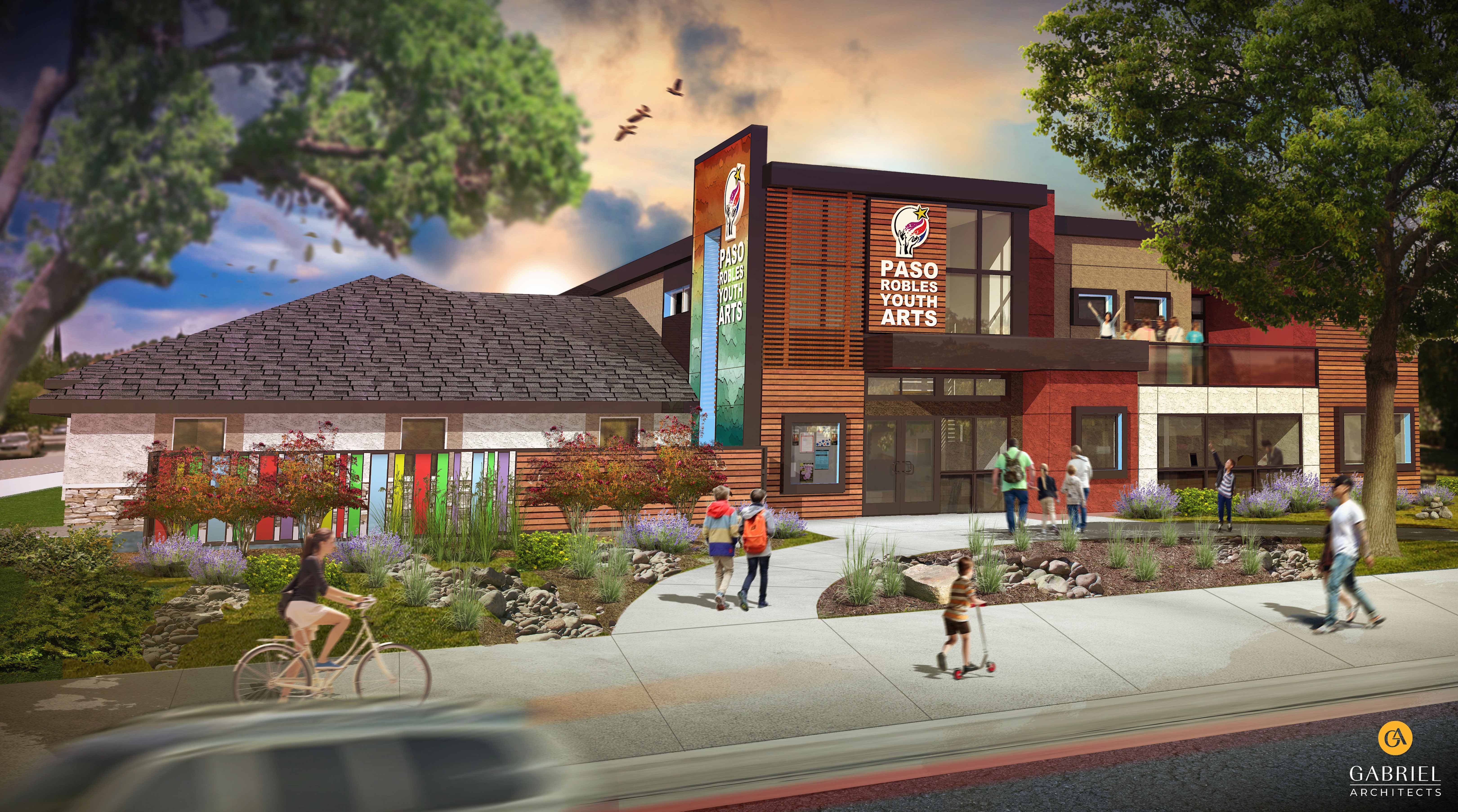 Paso Robles Youth Arts Foundation is Expanding!
We are thrilled to announce the future of youth arts in San Luis Obispo County with a cutting-edge new wing. In 2018, PRYAF acquired the property adjacent to the current 10,000 sq. ft. Center with the goal of serving more local youth through arts enrichment. The new wing is slated to add another 7000 sq. ft., making PRYAF one of the largest, free arts campuses in the State.
Soon after the property was acquired, it was cleared by generous volunteers and the planning began. Ambassador and Building Advisory Committees were formed to help lead the project to success. The design team at Gabriel Architects worked closely with PRYAF to create a functional and artistic, conceptual design that speaks to young artists and performers.
Almost every space in the new building will have a purpose, except for a large Community Room which will be available to other non-profits and be used as a flex space for events or as a classroom when needed. The expanded PRYAF will include an Art Gallery to display students' work. New classes such as ceramics are coming to the new Art Room, named after beloved, PRYAF Art Instructor, Danielle Valenzuela. Spaces are being created for Graphic Design, Culinary Arts, Prop Building, and STEAM (Science, Technology, Engineering, Arts and Math) classes that will prepare students for many careers. We are looking forward to an expanded Music Program with space for a larger collection of musical instruments. A recording studio for songwriters is slated for the second floor, as well as a music classroom with rehearsal spaces for individual musicians and groups. Plans are coming together for a beautiful dance studio with hardwood floors and plenty of mirrors and more!
Please consider a gift toward the future of Youth Arts and help us serve more deserving young people with these new creative spaces. To give please make your gift here and select the designation, "Expansion" or call 805-238-5825 x15 and speak to Emily Jagger, Development Director about more opportunities to support the project.
Choose amount
Information
Payment







PRYAF is a 501(C)(3) Non-Profit Organization Tax ID # 77-0488880