Scholars Empowerment Program
N/B: Read full program outline at https://hopeforariang.org/scholars-empowerment-program/
---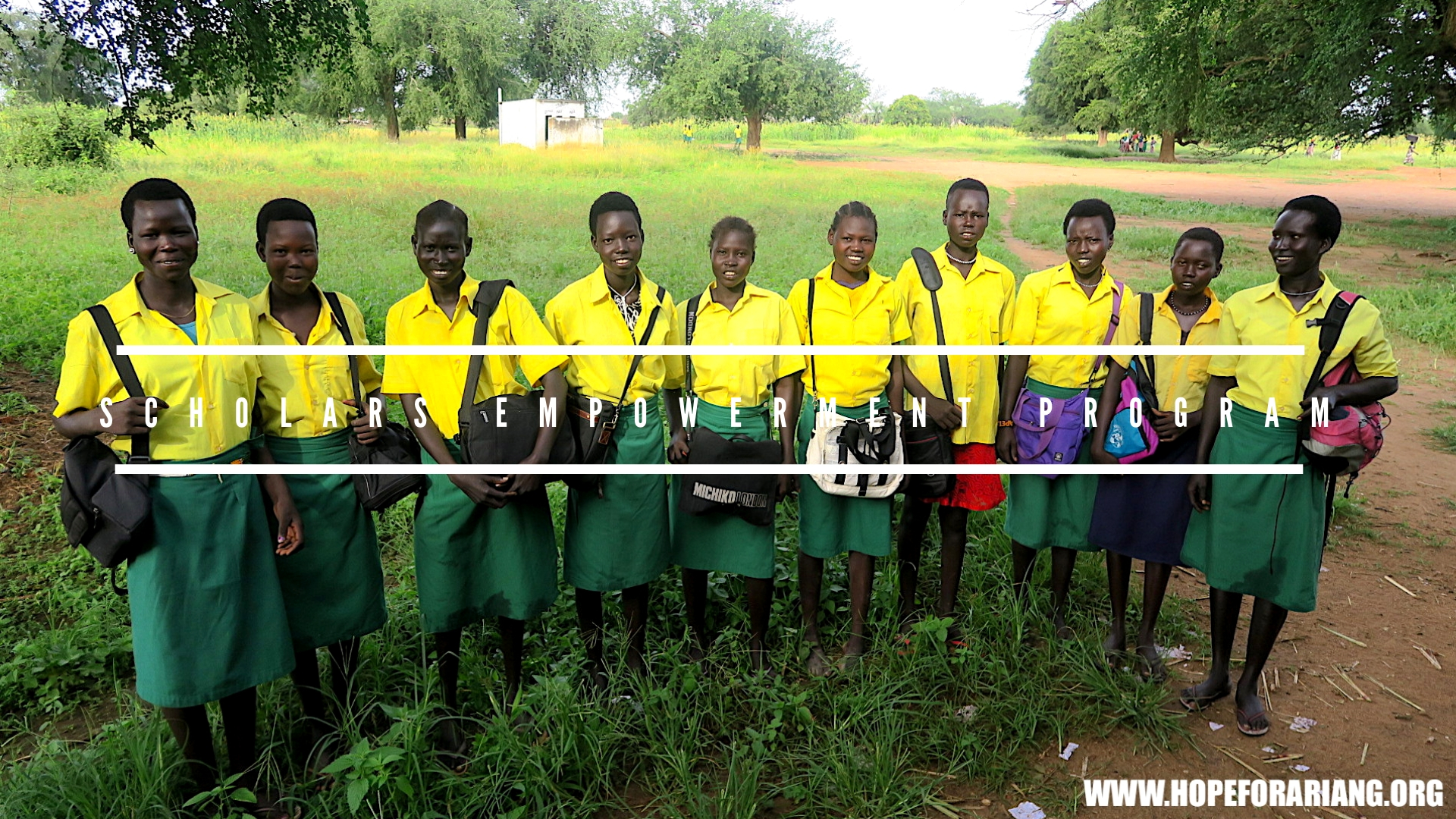 A quality primary education is essential but not enough in this evolving world. We envision a world where every child can access higher education to be able to reach his or her full potential in life; breaking the cycle of poverty in Ariang. Since 2011, we have an average of 45 students sit annually for the National Primary Examination at the completion of eighth grade, with an increasing passing rate each year. After finishing at Ariang, the future is unclear for many students due to many obstacles in their way.
We are stepping in to help more students, with a focus on girls. Students with promising potential will have the opportunity for a secondary school sponsorship. A rigorous application process will ensure that we select students who are committed to their continued education. We will partner closely with the scholars' families, to ensure greater support and commitment.
Sponsor a student under one of the following levels:
Advocate ($20 a month)
An Ariang Advocate provides one student with:
School fees for a local secondary day school
Uniform
Books and supplies
Tutoring support during school holidays
Since closest secondary school is Akon, a three-hour walking distance from Ariang, students usually find accommodations with relatives during weekdays. Your sponsorship ensures that he or she is provided with meals in the evening.
Ambassador ($30 a month)
An Araing Ambassador provides one student with:
School fees for a local private secondary school
Uniform
Books and supplies
Meals
A private secondary school often offers better quality education with more qualified teachers and better resources and facilities. Sponsored students at the Ambassador level are accepted to private schools in Akon and Kuajok.
Champion for Girls ($40 a month)
An Ariang Champion for Girls enables a girl to:
Stay in hostels where they are provided with a safe and conducive home environment.
Attend a private school during the day and in the evenings and weekends, an older female role model supports the girls with their studies and holistic development.
Access empowerment programs where the girls get opportunities to explore future career possibilities, develop leadership skills, and receive extra support in their studies.
Becoming a Champion for Girls will save a girl from early marriage and help her to reach her full potential!
Choose amount
Information
Payment






