The Psychedelic Club documentary
A group of science students set up psychedelic clubs at University College London, Harvard, University of Pennsylvania, and Princeton, to promote psychedelic research for mental health treatment and consciousness studies, inspired by their personal journeys through anorexia, bulimia, and suicidal depression.
SYNOPSIS
The Psychedelic Club gives an intimate portrait of the students who established the psychedelic clubs at University College London in 2016, at Harvard University, University of Pennsylvania, and Princeton University in 2019.
The featured students share their personal journeys battling with eating disorders and suicidal depression, how they discovered psychedelics somewhere on their paths of healing, and their triumphs, losses, hopes, and doubts in founding the psychedelic clubs and organizing the 2nd Intercollegiate Psychedelic Summit at Harvard in April 2020.

This documentary includes the director's interviews with world-leading scholars in psychedelics, including Karl Friston and Robin Carhart-Harris, on the past, potential, challenges, and future of psychedelics.
The film also features an actual psychedelic trip taken by three of the main student characters and one of their friends. The trip will be documented from the preparation process all the way to the post-trip integration the day after the trip.
Within the very limited amount of documentaries available about psychedelics, this is the only one shown from the perspective of college students: how they are developing an intercollegiate movement to destigmatize psychedelics, contribute to the current psychedelic renaissance, and, ultimately, create a more blissful and connected future.
---
GOALS
Show a whole psychedelic trip, from the preparation process all the way to the post-trip reflection. This is incredibly rare for a documentary, given the illegal status of most of the psychedelics in most of the world

Inform those who don't already know about psychedelics what psychedelics are and their potential

Document a section of the current psychedelic renaissance

Present a new image of people who are interested in psychedelics. This film cannot represent everyone in the current psychedelic renaissance, but shows a section of the people: they are serious students of science and came into psychedelics for a serious cause, inspired by their own mental sufferings
Through all of the above, destigmatize psychedelics, hopefully make them easier to be researched on and discussed academically in the future, so that we can learn more about how specifically psychedelics could help in our society
---
TEAM
DIRECTOR, PRODUCER
Wendi Yan
Wendi is an artist and researcher deeply fascinated by the emotion of awe and the egoless mind states. She has won a Gold Medal, a Top 2 NH state portfolio, and 10+ Gold Keys in the Scholastic Art and Writing Award, and an Honorable Mention in YoungArts for her art. She recently published a research paper on the spatial elements of awe in the Conscious Cities Anthology 2019.
Wendi just completed her freshman year at Princeton before embarking on a gap year to make this documentary. She deeply believes in the story she wants to tell through this film. She plans to major in History of Science and Visual Art when she returns to campus in fall 2020.
website: wendiyan.com
PRODUCER
Cameron Najafi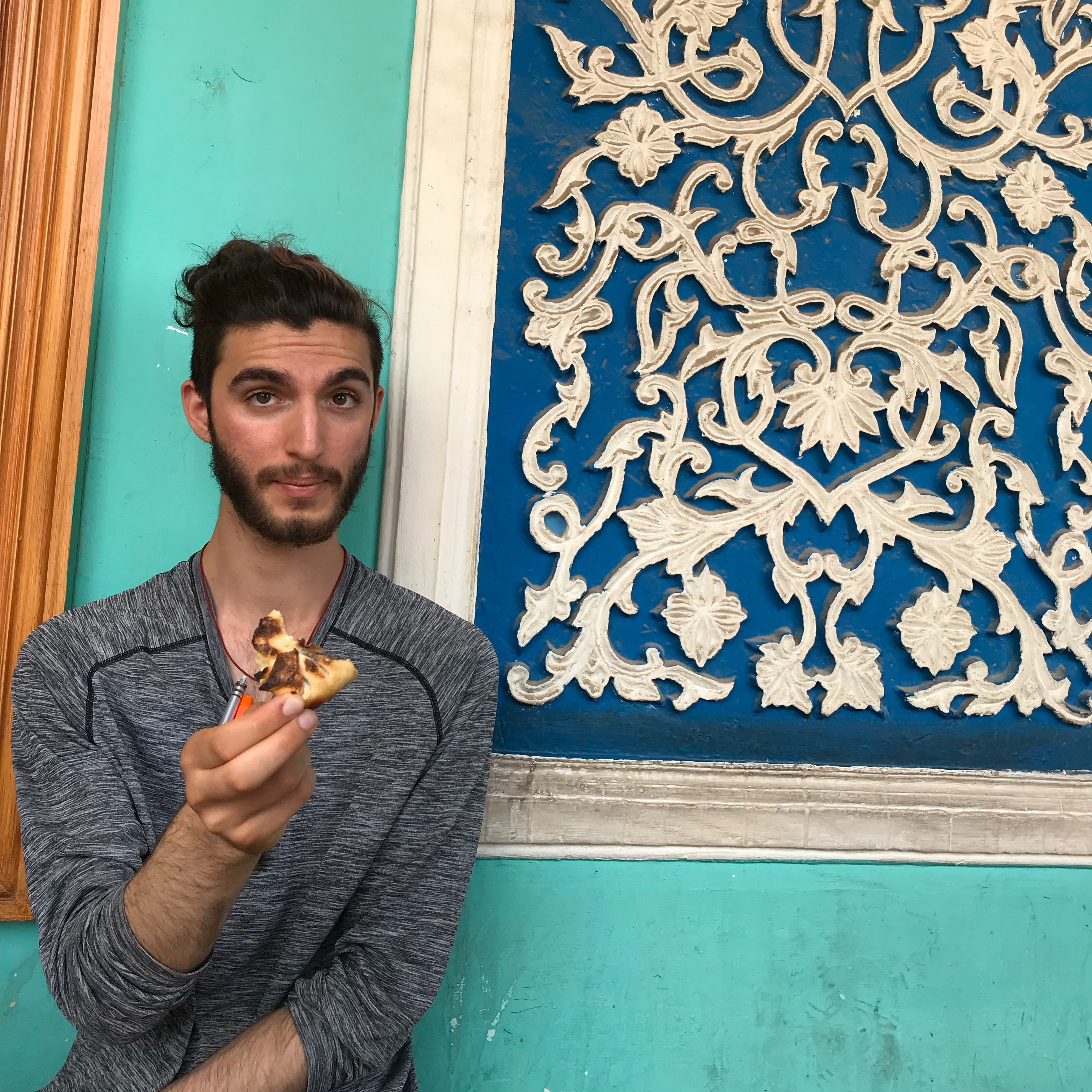 Cameron is an undergraduate at the University of Chicago deeply interested in the mechanisms of self-transcendence and their relationship to the Bodhisattva vow (to commit oneself to free all beings). Ultimately, he is concerned about what these insights mean for navigating global catastrophic risk and how they can be applied to mitigate risk.
Over the past 15 months, people Cameron highly respect - many of them in this film - have shown him the powerful capacities of psychedelics to promote healing and self-transcendence, thus piquing his sincere interest. He is excited to work artistically with the doc team and come to understand psychedelics, the mind, experience, and general project execution more deeply.
ART DIRECTOR
Kira Bursksy
All Around Artsy was founded in 2009 by Kira Bursky, an award-winning filmmaker on a journey to explore perceptions of reality with each of her magic fueled films and projects. She is inspired by our capacity to heal from mental health issues and is driven to tell stories of our ability to transform our minds and hearts into a perspective of infinite possibility.
She has produced over 60 short films and music videos that have screened at festivals around the world from Los Angeles to Berlin to Beijing. In 2014 Kira was recognized as National YoungArts Finalist and was a finalist in the White House Student Film Festival where she had the honor of screening her work in the White House. In 2015 Kira was selected as the Best Emerging Female Filmmaker at the National Film Festival for Talented Youth (NFFTY). In 2016 she was featured in Seventeen Magazine as the April issue's Power Girl and received the Emerging Artist to Watch grant through Le Couvent artist residency in France. Kira and her creations have been featured through NPR, Out Magazine, Pride and No Film School to name a few. Her YouTube channel has over 35,000+ subscribers and 16 million+ views.
In November 2019 she created and launched an immersive film installation entitled "Considerations of Infinity" which runs through June 2020 in Asheville, NC as a part of her year-long artist residency with Vibe of Asheville. She is currently developing the script for her first feature film.
website: allaroundartsy.com
CINEMATOGRAPHER, SOUND DESIGNER
Robert Gowan
A multi-instrumentalist and award winning cinematographer, Robert Gowan keeps his life filled with art and music, blending his passions. Graduating from the University of South Carolina in 2007, he used his B.A. in music to teach, perform, and compose for film and video games. After writing and recording his first feature film score in 2010, Robert became more active in filmmaking producing music videos and doing post-sound audio. In 2016, he started his production company Other Southern. Using his diverse skill sets and teaching background, he thrives on connecting with others and assuming various roles, collaborating on team productions and solo film projects.
Robert has written and directed three short films along with his frequent film partner Kira Bursky of All Around Artsy. Together they helped produce the 6 episode documentary series 'Psalm Space' and worked on the Netflix comedy special 'Steve Martin and Martin Short: An Evening You Will Forget for the Rest of Your Life'. In 2017, 'Fake Emma', Robert and Kira's co-directed submission to the international '100 Words Film Festival', won 'Best Scripted Film'. Robert also won the New Orleans' '48 Hour Film Project' award for 'Best Sound Design' and In 2018, he was awarded 'Best Cinematography' during the '48 Hour Film Project' in Asheville, NC. In addition to working in film both on-set and in post-production, he is still a performer, composer, live audio engineer and has worked with clients such as Coca-Cola and Yamaha.
website: othersouthern.com/
ADDITIONAL CINEMATOGRAPHY
Kenzie Rattray
Kenzie is a film artist, writer, and academic interested in the role of media in mass consciousness. She graduated from the Maryland Institute College of Art in 2018 with a degree in Film & Video and a minor in Critical Theory - graduating a full year ahead of schedule. Her work often asks questions about the structure and tradition of storytelling and attempts to inform her audiences of the power of stories and the importance of media literacy.
website: kenziequinnrattray.com/
---
PRODUCTION SCHEDULE
Pre-Production 4 months
September-October 2019, January-February 2020
Talking to all of the main and relevant characters

Applying to the Sundance Documentary Fund

Consulting film professionals on the general direction of the film in artistic style and business strategy

Raising funding for the film

Assembling a team
Production 4 months
November-December 2019, March-April 2020
Filming interviews with the students and professionals in London, San Francisco, Philadelphia, Princeton, New York City, and Boston

Filming club meetings at UCL and Princeton

Filming the 2nd Intercollegiate Psychedelic Summit at Harvard

Filming the real psychedelic trip in Amsterdam either in May or in June, for a few days
Post-production 4 months
May - August 2020
Getting a 2-3 hour rough cut done by end of June

Working with an additional editor to clean the cut down to ~90 minutes

Sending to composers and post house in early August

Putting together all elements and get the film ready for submission by mid September
Outreach
September 2020 onwards
Submitting to major film festivals like Sundance, Hot Docs, Tribeca, and SXSW

Working with organizations to host screenings

Hopefully, getting the film picked up by a streaming service
---
BUDGET
Total: $60,000
Total raised so far: $23,000
Equipment - $8,000

Travel expenses for filmmakers - $8,000

Funding an actual psychedelic trip in Amsterdam - $9,000

Rates for art director, cinematographers, etc. - $17,500

Visual effects and animation - $5,000

Music and sound design - $8,000

Outreach - $2,000

Contingency - $2,500
---
CONTACT
Wendi Yan
Cameron Najafi
Choose amount
Information
Payment






