Project Grow – An Ethical Plant-Based Environmental Initiative to Empower At-Risk Ugandans.
The Podrska Foundation (www.podrskafoundation.org) is a grassroots organisation, established by Dash Meizler in 2018, that advocates for human and non-human animals. We seek to improve the lives of vulnerable humans whilst promoting compassion for non-human animals. We also see care of the environment as an integral part of our work. After all, it takes a healthy environment for humans and non-humans to thrive together. Through our ongoing outreach work in the slums of Kampala, we have gained insight into a number of simple ways in which we can improve peoples' lives. One such way is Project Grow: a project designed to promote the care of all three spheres of life – humans, non-human animals and the environment.
To listen to a recent podcast with founder Dash Meizler click here
Podrska Foundation animal advocacy
Project Grow is an innovative project that aims to enable some of the poorest people in Uganda to learn environmentally and ethically sustainable plant-based ways of living in harmony with nature. Throughout the course, participants will gain an awareness of the widespread human exploitation of non-human animals and its profound consequences for the planet and its inhabitants. Project Grow will provide the knowledge and resources to enable participants to make informed choices as to whether or not to adopt an environmentally and ethically sustainable vegan lifestyle. Specifically, participants will be given the knowledge and the means to recycle their organic waste into usable compost, grow nutritious food at home, and potentially create a modest income through the sale of surplus crops
Initially this project will be delivered to five groups from the slum district of Kiwunya in Kampala, Uganda. Residents of Kiwunya face many challenges. There are high illiteracy rates, poor housing conditions, overcrowding, water logging and poor sanitation. Many residents have health issues. As several are without work, they live in extreme poverty. Project Grow seeks to offer such residents a model of self-sufficiency that would be realizable in every poor household.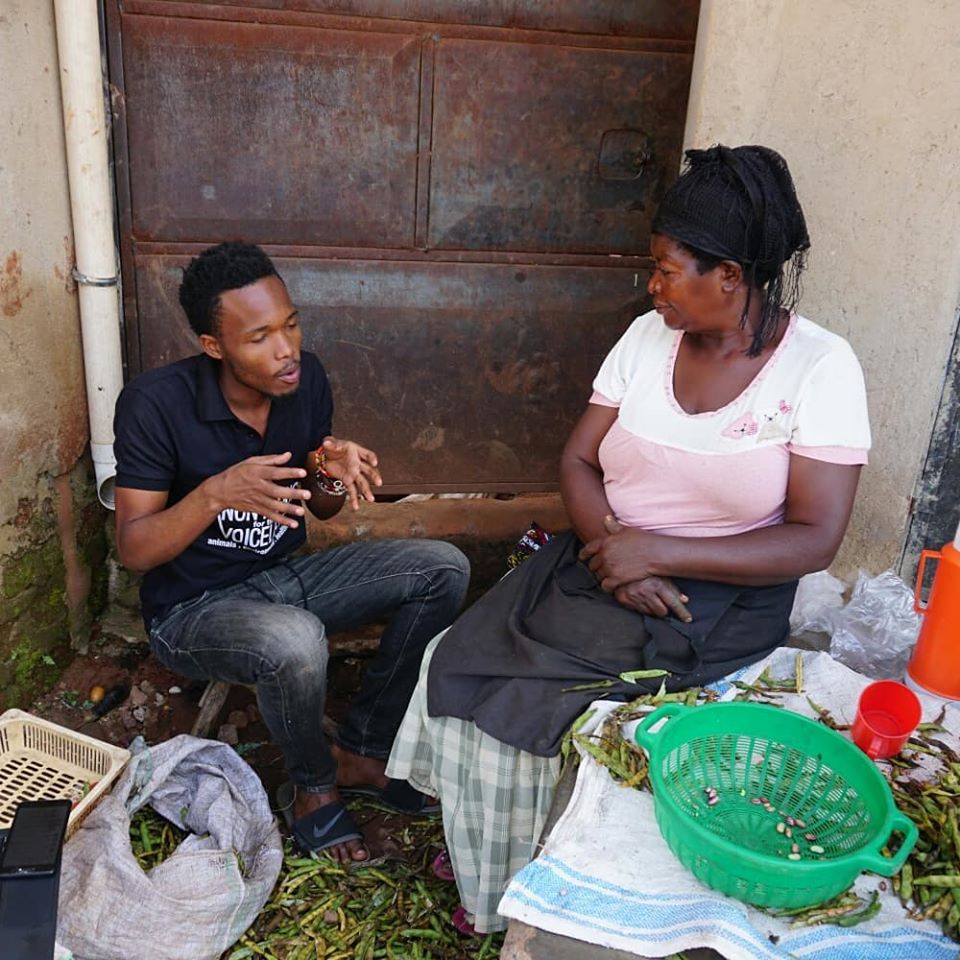 Dash Meizler during a vegan outreach visit
Your support will help with the initial costs such as training and materials. After the initial stage, this campaign will be rolled out so that we can empower more at risk residents of Kampala. If you choose to donate on a regular basis your continued support will enable us to reach more people.
How you can help: To help us achieve the fundraising target of £2,900 ( approximately $3752.22 ) we are seeking your support. If you are unable to support us financially we appreciate you taking the time to share this project on social media or directly with friends, family and colleagues.
Update January 2021
learning to mix a suitable growing mediumEnough funds were received to launch the container gardening part of the project on the 21st of December to a small number of families. Participants were taught about how to mix a suitable soil based growing medium to support the plant growth and how to care for the plants. In around 3 months time they will have access to fresh home grown food.
learning about plant careAlongside this training the foundation also gave information on the exploitation of non-human animals and its consequences for the planet and its inhabitants. We are still seeking your support in order to implement the other aspects of the project as well as reaching more vulnerable families.
planting
Update February 2021
Six weeks into Project Grow we visited our beneficiaries to check on the progress of their container gardens. Overall we observed good progress and identified some challenges.
The beneficiaries had been placed into five groups according to where they lived,so that they could work as a team with minimum traveling needed. Working as teams helped to give confidence to participants who had no previous growing experience and also helped us to supervise of the project. We noticed that beneficiaries have a love of the project due to the calls that they have been making to us letting us know how they are doing and what they need for their plants. However not all of the groups have succeeded. Our most advanced group, that previously had the best crops, saw their plants being washed away by heavy rain last Friday which also flooded their homes. For this group, when they have identified an area for growing that is not prone to flooding, we are able to provide new seedlings so that they can restart their gardens. The gardens of the other groups were making good progress considering we are only six weeks in. The main problem that they are having is that some of the plants are being attacked by insects. As a vegan based foundation we do not support the killing of any creature big or small so we will provide participants with information on how to make insect repellents rather than 'pesticides'. One such repellent used in Uganda is a concoction made from the leaves of the tobacco plant.
As well the continued mentoring and monitoring of our initial participants our focus is to fundraise to deliver the same initiative to a further 50 families in the coming month. After a temporary halt to food exports from Uganda because of the pandemic, food is once again being exported which has resulted in an increase in food prices. Many people are approaching us, desperate to join the project as they are finding it difficult to afford meals.
For more information please contact us at [email protected] or visit the campaigns page on our website

Choose amount
Information
Payment






