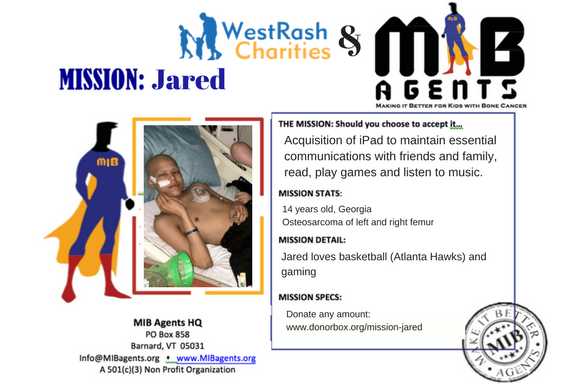 MISSION: Jared
Jared is a 14 year old rock star point-guard basketball player who has osteosarcoma in both femurs, which is extremely rare. He is a loyal Atlanta Hawks Fan. Faced with long hospital stays, he could use some MIB Swag. We are proud to have WestRash Charities as an Osteosarcoma Alliance Partner in completing this mission! If you can help, please do.
Objective: Secure an iPad for Jared who is in active treatment for osteosarcoma of his left and right femurs. Jared will need an iPad to maintain communication with his peeps while he is hospitalized many miles from his home.

https://donorbox.org/mission-jared
#Osteosarcoma #MakeItBetter
If you can help with any amount to help accomplish this mission, we would be most grateful!