Donate to Hurricane Ida Relief & Recovery
This fund is now closed. All future donations will go toward supporting our work across a variety of programs and focus areas.
The Mutual Aid Response Network is a group of Louisiana residents, led by Imagine Water Works, that activates during floods, storms, and other natural and manmade disasters.
---
Hurricane Ida Updates (2021):
2/26: We selected 200 applications from across coastal Louisiana. We contributed $90,000 from our Hurricane Ida Relief Fund and $10,000 from NNPHI and LPHI — for a total of $100,000 distributed directly to public health workers impacted by the storm.
2/1: We are offering $500 dollar microgrants to public health workers who were impacted by Hurricane Ida. In acknowledgement of the fact that those who are most often pushed to the margins are also those most impacted by natural disasters, we will prioritize LGBTQ and BIPOC individuals for this fund.
We take an expansive view of public health and encourage applications from individuals working in a variety of ways to improve the physical, psychological, and social well-being of our communities. More info can be found on our website at bit.ly/PHWFUND.
12/31: Throughout the month of December, we redistributed $14,100 cash to individuals impacted by Hurricane Idea through two mutual aid holiday programs.
🔹 ENCORE Academy
We sent $25 VISA gift cards to 80 families to use for whatever they needed to get through the holidays. The list of recipients was made up of students who qualified for McKinney Vento services (students considered homeless under federal law), immigrant families who did not qualify for FEMA or DSNAP relief, and families who registered for ENCORE's Hurricane Ida relief. The gift cards were paired with additional support from ENCORE's neighbors and staff. The total amount of our redistribution for this program was $2,000.

🔹 Imagine Mutual Aid Holiday Program
We sent $100 VISA gift cards to 139 families to use for whatever they needed to get through the holidays. The list of recipients was made up of people who were impacted by Hurricane Ida and are part of our Mutual Aid Response Network. The gift cards were paired with food and holiday gifts from neighbors. The total amount of our redistribution for this program was $13,900.

Your donations have also helped us cover bank processing fees, as well as fees related to purchasing bulk gift cards. Thank you for your continued support!
12/6: On Thursday we made another trip down to Larose to deliver:
🔹 40 heaters
🔹 30 blankets
🔹 360 hand warmers
🔹 120 rolls of toilet paper
🔹 40 rolls of paper towels
🔹 $600 cash (VISA cards)

We remain in contact with folks across the lower bayous and have been responding to needs as they arise. Contributions to this fundraiser have made this ongoing work possible. More updates to come!
12/2: [UPDATE] As of December 3rd, we have distributed all $10,000 of the gift cards/cash to individuals in Houma, the Pointe-au-Chien Indian Tribe, and the following bands of the Biloxi-Chitimacha-Choctaw Tribe: Isle de Jean Charles, Grand Caillou/Dulac, and Bayou Lafourche.
11/29: This weekend we sent 25 electric kettles to Lafitte, where many folks still don't have gas to heat their homes or hot water. Today we sent about 30 heaters for further distribution — by tomorrow they should have a total of 50 heaters. If you're in Lafitte and don't have gas right now, check out the "Let's help Lafitte" group on Facebook for details about how to get a kettle or heater. If you aren't in Lafitte but would like to help, you're welcome to join too!

We were also excited to meet up with Isabelle, who distributed some of our supplies (a handful of heaters, blankets, hand warmers, and four $100 gift cards) to folks down in the lower bayous.
11/27: This week we brought supplies to Houma, the Pointe-au-Chien Indian Tribe, and the following bands of the Biloxi-Chitimacha-Choctaw Tribe: Isle de Jean Charles, Grand Caillou/Dulac, and Bayou Lafourche. With your support, here's what we were able to distribute this time:

🔹$8,800 cash
🔹400 handwarmers
🔹150 pairs of new socks
🔹80 oversized blankets
🔹58 electric heaters
🔹32 sheet sets
🔹22 pillows
🔹14 mattress pads
🔹12 kettles
🔹8 towel sets
🔹1 permanent carport structure
11/19: We've been preparing for the combination of winter storms + hurricane season by ordering heaters, blankets, and hand warmers. Currently, we've purchased 100 heaters, 100 high quality blankets that can double as permanent bedding, and hundreds of hand warmers. We're distributing these to tribal communities in the following areas this coming week: Chauvin, Pointe Au Chien, Isle de Jean Charles, Grand Caillou-Dulac, and Grand Isle. While there, we'll also be assessing some of their longer term relief and recovery needs. We have utilized approximately $13,000 from the fund on this effort so far.
We have additionally purchased $10,000 worth of gift cards ($10,410.95 with fees) to be distributed directly to folks who have been impacted by the storm and are needing extra support for the holidays.
10/22: Earlier this month, we committed $15,000 to women and girls impacted by incarceration + Hurricane Ida. We helped double the impact by advocating for a $15,000 match from a funder ($30,000 total!). All funds went to Operation Restoration for direct redistribution. When we build together, we win.
Many of these funds were distributed specifically to the River Parishes, or "Cancer Alley" as some of you know it. This brought our total direct cash redistribution during the Relief phase of our work to $120,000, with the match at $135,000. Thank you for your support!
10/1: This week's supplies drop/distribution was to Back Vacherie, a place close to our hearts in St. James Parish. By 2pm, there were already 100+ cars in line. Below is the final supplies count contributed by Imagine Water Works:
63 Pedialyte bottles
154 Wipes packets
5 Clorox wipes
25 sippy cups
50 toothpaste and toothbrushes
7 lanterns
25 baby toys / teether toys
94 rolls toilet paper
9 ziplocks
1 emergency radio
11 cases diapers
2 aa battery packs
12 contractor bag boxes
1 gloves pack
3 hand sanitizer
1 large tarp
24 pacifiers
192 DampRid buckets
80 DampRid closet hangers
30 adult diaper packs
14 Boxes Tampons
52 Boxes Kleenex
500+ liters of water
9/12: Last Friday, we committed $15,000 to the NOLA Black Youth Fund and promised to hold it for them until they were ready to receive it. We have both been struggling through getting blocked by Venmo for sending "too much" money out to folks, as well as bank and PayPal limits, but today's the day! Today we sent $15,000 for direct redistribution to Black youth from across southern Louisiana who have been impacted by the storm.
That brings our total cash redistribution to $105,000. We want to also share another reminder that this is not a 100% cash redistribution fund. It's currently also being used to distribute emergency supplies to folks in the city, river parishes, and lower bayous. It's supporting our on-site distribution center throughout last week and this week, which includes supporting artists and healers — to learn more about the center, check out our Instagram! And it's helping deepen disaster relief infrastructure for Yakani Ekelanna, a garden and cultural preservation project by the United Houma Nation, where we are sending supplies to set up a medic tent, free market, and cooking/feeding tent with camping supplies that do not require power.
We will continue to use multiple strategies to take care of our people at this time — in particular Black, Indigenous, undocumented, transgender, and queer folks both in the city and rural parishes — and we'll continue this work well into the future.
9/10: We've wrapped up our first week of on-site distro! We have so many people to thank and so much inventory to tally before we can give you the total amount of what went out this week to over 430 families.
For now, we just want to say: mutual aid works. Folks offering their skills and caring for each other in the best ways we know how. This was not a government or FEMA site — this is a community. A school who opened their doors to us, people from our work and chosen families and neighborhoods and mutual aid networks both locally and in Atlanta and Mississippi, groups and organizations pitching in where possible, healers offering comfort for our bodies and minds, small businesses sending donations or whatever lagniappe supplies they had, neighbors bringing over that good Brother's chicken to keep us going, dozens of shoppers driving and flying water and diapers and fans and flashlights in from all over the South, artists drawing beautiful art on the sidewalk and playing tunes to sooth our souls.
It's been another "trust fall" and we catch each other every time. We do our best. Together, we'll also demand better from the systems around us. We'll get through it. Thank you all for being a part of this big, beautiful, caring effort.
** We'll see you again in person next week — same spot, same time, Monday through Friday, 12-4pm, at Encore Academy.
9/8: We've officially sent $15,000 total to Trans Queer Youth NOLA! We committed the funds to them a few days ago, but with banks closed and limits on Venmo, we couldn't send them over immediately. To fill the gap, five community members stepped in and loaned their cash and Venmo accounts to move the money to our youth immediately. As of today, we've reimbursed them directly. Because of community trust — and working together — we were able to move money faster than the systems allowed. The people are powerful, y'all.
9/6: We've survived our first week post-Ida! Whew. We know the value of community, and our community has SHOWED UP this past week. Thank you!
Though we've done plenty of cash redistribution in the immediate aftermath, we've also been working hard on the ground. Read through the list to see what we did with your support over the past week… ranging from flying in supplies from Atlanta, to finding power and Wi-Fi against all odds, and linking up with neighbors across the city, upriver, and into the bayous.
With your support, here are just a few of the things our small team has managed to do within one week, and sometimes days, of landfall:
Directed over $90K (!!) to mutual aid funds around Southeast Louisiana within days of landfall for efficient and quick disbursal, with $105K committed in total. These funds went quickly into the hands of Black, Indigenous, transgender, and nonbinary individuals; peri-natal parents and birth doulas; undocumented coastal workers; and allows us to focus our time on additional needs that are not otherwise being met, such as Wi-Fi access and technical support.

Continued to look ahead to long-term relief and safety, allocating one-third of the fund to recovery and another third to preparation for future storms.

Secured multiple emergency spaces for private storage/sorting and public distribution.

Engaged old friends and new friends, partners, colleagues, neighbors, and volunteers to assist with admin, logistics, supply distribution, and cash distribution.

Partnered with CORE to set up a FEMA paperwork support site at Encore Academy, open this week from 12-4pm with computers, portable power, WiFi hotspots, and support on site to help with FEMA applications. Also distributing emergency supplies, as they last.

Received and worked together to distribute a variety of supplies, including multiple barrels of gas driven in from our friends in Austin, to various mutual aid groups in the city and in the river parishes.

Coordinated a private plane that delivered emergency supplies from Atlanta.

Dropped supplies to our neighbors out in New Orleans East, including: brooms, charging packs, medicine, diapers, batteries, fans, hygiene kits, cleaning supplies, and baby formula.

Received and moved supplies to Resurrection After Exoneration, including: 985 disinfectant wipes, 100 rolls of toilet paper, 257 diapers, 480 baby wipes, menstruation products, cleaning supplies, batteries, flashlights, face masks, plates and utensils, trash bags, and water.

Delivered the contents of Pizza D's freezer to neighbors across the 7th Ward.

Set up our Community Power Map to share locations of BIPOC and LGBTQ safe charging stations around the city, which is listed on the NOLAReady website.

Coordinated with 211 to provide Community Power Map information to those without internet access.

Made countless connections to get money and supplies to students at Delgado Community College, Individuals in our Mutual Aid Response Network, and folks who find us through social media, friends, emails, and in the streets.

Continued to amplify other grassroots efforts, both through social media and behind the scenes to reporters, funders, partners, and individual donors.
As we move through the upcoming weeks and months, please keep in mind that mutual aid is not simply cash distribution. Mutual aid is deepening our community connections for the long haul. It is recognizing the work others are doing and not reinventing the wheel. It is respecting Native knowledge and traditions. It is encouraging collective agency. It is supporting one another.
As a locally-based group, we have been right there with you… dealing with no power/phone/internet, credit card limits, summer heat, occasionally frozen cash accounts, the need to check in on our loved ones, and of course the complex trauma of riding out a storm of this magnitude at home. We have been doing this kind of work long before Hurricane Ida, and we will be doing it for long after.
Thank you to everyone who has contributed to Hurricane Ida relief efforts, whether it has been supporting our organization or any number of other grassroots efforts on the ground. We're all in this together.
9/4: This morning we sent $3,000 to Trans Queer Youth NOLA, who are redistributing it directly to trans and queer youth who've had to evacuate or are otherwise impacted by the storm. We've committed $15,000 total and will update once it's all been sent out. In the meantime, a handful of community members have already moved to get the money out the door, and we'll be reimbursing them directly. The power of community is beautiful.
9/3 (Afternoon Update): Redistributed $15,000 to the Bvlbancha Collective, an Indigenous mutual aid collective based in Bvlbancha that organizes across the coast. These funds are being used to meet emergency needs for a member of the collective who is in the Houma area, as well as for herbal medicine and general care kits. Learn more about the collective on their website at https://www.bvlbanchacollective.com/
9/3 (Morning Update): We've partnered with the Birthmark Doula Collective for today's cash redistribution. On Saturday, the Collective mobilized a 24/7 "Parent-Infant Warmline" that is providing emergency information to perinatal families in Louisiana and evacuated around the country. The line has been ringing steadily since Saturday, and they hope to extend it for as long as needed. Some of their birth workers and clients are sheltering in place in New Orleans, and others are scattered around the South. Together we're covering evacuation costs, such as shelter, food, and childcare. The Collective is led by 12 Member-Owners, and includes 7 BIPOC, 3 Queer and/or Nonbinary people, and 3 Native New Orleanians. The wider Collective is composed of 25 additional BIPOC, a majority of whom are Native New Orleanians, and they serve primarily Black and low-income New Orleanians.
Our Community Power Map is still going — please help spread the word. We partnered with 211 to also share this information with individuals who call in for a variety of support but do not have internet access: bit.ly/powermapnola
Imagine Mutual Aid is also still moving — if you're in the New Orleans area, please join the group to offer and receive support: bit.ly/mutualaidneworleans
9/2: We've set up warehouse sites to receive large donations of supplies to distribute in the days to come — and connected with our community down in Houma, which still has almost no phone service. Tonight we're redistributing $15,000 in partnership with the Houma Protection Network. The HPN is organized by and for rural migrant workers who often face unfair and abusive workplace practices in Louisiana's seafood and oil & gas industries. They have been organizing to end 287g in Houma, as well as leading rapid response work, rights education, legal support, and more. They are directly redistributing cash and supplies to folks in their network, as well as helping the local NAACP chapter clean their office and patch their roof.
9/1: Today we delivered supplies across the city to folks who have been reaching out directly, in addition to people in our mutual aid group. We also partnered with Familias Unidas and sent them $15,000. These funds are going towards meeting the basic needs of undocumented folks at this time. This includes housing, hygiene kits, diapers, and more. We also used the fund to purchase a large vehicle for the month to transport supplies with, as well as for the supplies itself.
8/31 (Night update): We met up with a couple of community members who have been redistributing funds directly to people who need it. Instead of reinventing the wheel, we've sent them funds while we work to fill gaps like power and Wi-Fi. Through them, we've sent the first $15,000 to BIPOC and LGBTQ folks who have evacuated. These funds covered emergency housing, gas, food, evacuation supplies, and more.
IMPORTANT NOTE: We do not currently have a signup link for receiving funds. Direct fund redistribution is happening through our community partners while we organize mutual aid on the ground. Currently, they are redistributing through their networks, often by word of mouth. Those with signup forms have paused them due to overwhelming need while they catch up. We ask that you be patient with each other at this time — frontlines work is hard and time consuming, and folks are doing it right now with limited connectivity.
8/31 (Morning update): Wow, we are so very grateful for the outpouring of support. You all surpassed our goal quickly, but we are still accepting donations since we know the need will be far greater than we imagined. We rode out the storm in the Lower 9th Ward, as well as in Ponchatoula 40 miles north, and lost cell service/power/water/internet. Last night, we re-launched our Community Power Map so that folks across New Orleans can get access to power (bit.ly/powermapnola) and are encouraging everyone to join the mutual aid group if they are in the area (bit.ly/mutualaidneworleans). Today we're coordinating resources behind the scenes and fielding thousands of emails/calls/texts. More to come.
See our prep work on Hurricane Ida (2021):
8/28: It's our last day of prep and our final Q&A for Hurricane Ida. Today we're focused on keeping folks as safe as possible, regardless of whether they're staying or going. Over the past few days, our Q&A has reached thousands of people. To see the full series, find us on Instagram at @imaginewaterworks.
8/27: Though not named as such yet, this storm will become Hurricane Ida.... so it's time for a second round of Storm Prep Q&A. We base our answers on lived and trained experience, along with data from trusted meteorologists, NOHSEP, and others. Though the storm is evolving, we are already asking our community to evacuate if they can. This will be a strong storm.
8/26: Here we go. Even though Tropical Depression Nine is not yet in the Gulf, we are launching our anonymous "Storm Prep Q&A" early. We must start preparing in case this storm is headed our way on Sunday. Folks in our Imagine Mutual Aid (New Orleans) group are beginning to prepare, as well, and we're providing daily updates on the storm's progress.
8/23: Today we distributed a condensed version of our hurricane guide, in partnership with the Climate Resilience Project, to continue helping folks prepare. At the time of this post, the "mini guide" has reached 6,000 individuals through Instagram alone.
8/21: Today we're widely distributing our updated "2021 Guide to Hurricane Season" to help support our friends in the Northeast U.S. with Hurricane Henri. Whether you're in New York or New Orleans or anywhere in between, please consider using today to get prepared (this will help with storm stress!). This year's guide has storm prep checklists, tips for staying safe through COVID + hurricane prep, and special considerations for queer and trans individuals. Created by Native New Orleanians and disaster prep professionals. Local information is specific to New Orleans and SWLA, but most of the information can help you prepare no matter where you are. As hurricane season is kicking into gear, now is the time to prepare!
See some of our work on Hurricane Zeta (2020):
10/31: Tonight we have 53 free power stations, 13 free wifi stations, and 8 businesses offering power and/or wifi through the Community Power Map. We've delivered several chairs, power hubs, and power cords to the areas with the least power.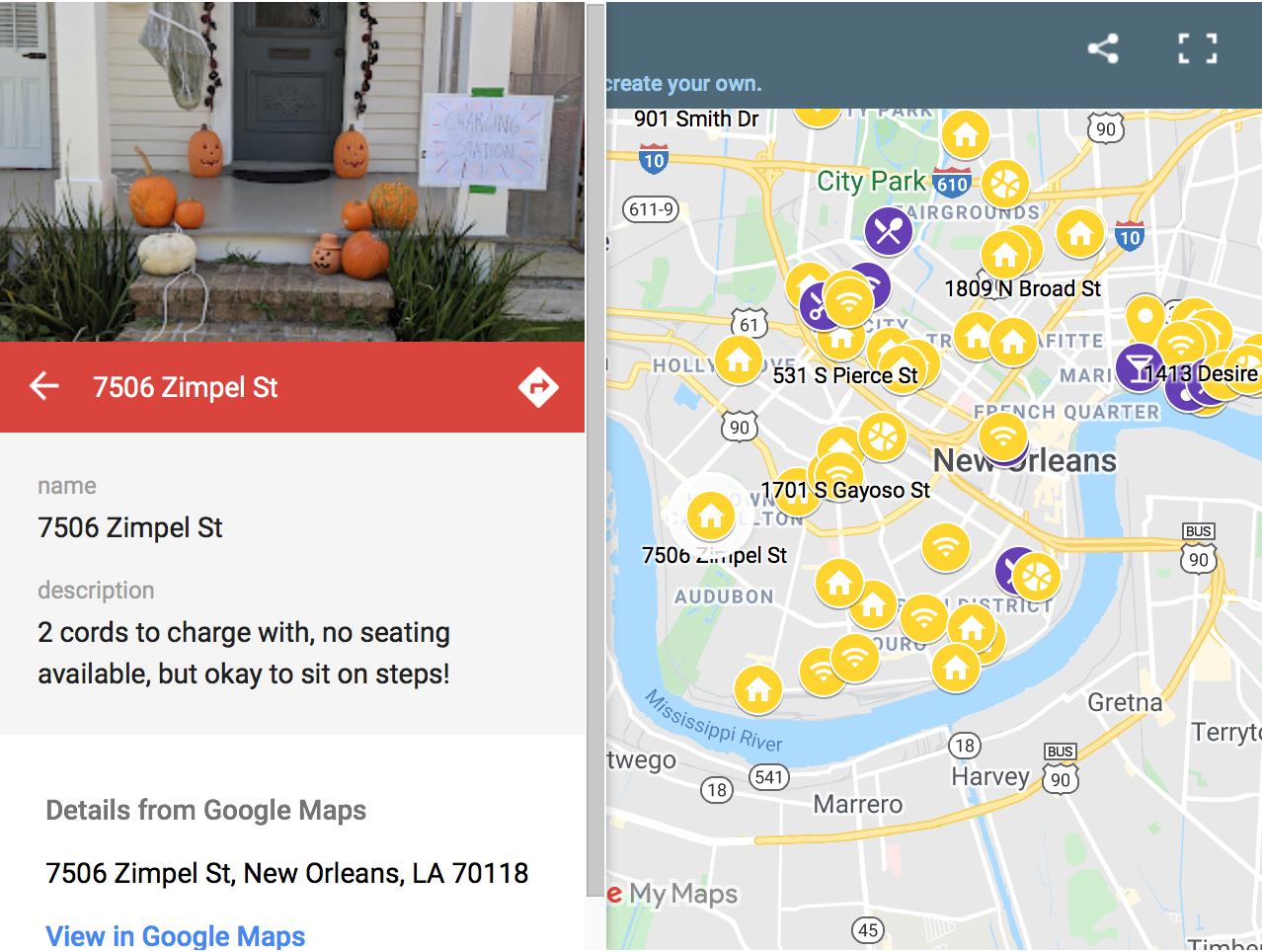 10/30: With thousands of households across the city still without power, we've used the first $450 of donations to launch a Community Power Map, showing places for folks to charge their devices at Charging Stations. Thanks to our amazing neighbors, some stations also have free wi-fi! Funds were used to purchase extension cords and Power Hubs that allow for multiple devices to charge at once. To see the full, most updated map, visit our website at https://www.imaginewaterworks.org/community-power-map/. Shoutout to Sara Slaughter, who we found through the mutual aid network and is co-organizing this project with us.
10/28: We've spent the last 48 hours prepping for Hurricane Zeta, which will be a direct hit on our city and our organization. We know it's been a tough year, but please continue to donate or spread the word. Every show of support helps.
---
See some of our work on Hurricane Laura (2020):
In addition to Zeta, we have been working throughout 2020 on all named storms with Louisiana in the "cone of uncertainty", supporting folks through Cristobal, Marco, Laura, Sally, Beta, and Delta. Below are updates from our work on Laura and Delta, for those who would like to see where your support goes.
10/26: As of today, we have successfully distributed $16,440 of emergency funds directly to 411 individuals in New Orleans, Lake Charles, and Lafayette. We've signed up over 625 individuals, with a goal of distributing $25,000 through the Emergency Cash Program alone.
10/24: Today we successfully recommended seven Indigenous and LGBTQ families for $500-$1000 additional cash assistance each through Islamic Relief Muslim Charity. These emergency funds can be used for whatever each family needs in the wake of Hurricane Laura and Hurricane Delta. Those we recommended were already part of our networks and include Black trans women, a young trans woman in SWLA, a member of the Atakapa-Ishak Nation who is caring for other sheltering families at this time, an Indigenous zydeco musician, and LGBTQ women sheltering in New Orleans.
10/23: Thanks to our friends at ITDRC, we now have 20 HP tablets to distribute to those who are most impacted by both hurricanes and COVID-19 right now! We'll be working over the next week to distribute them as quickly as possible, prioritizing children who have evacuated from Hurricane Laura and are now taking classes remotely.
10/19: For the past week, we have been focused on keeping the mutual aid group running, as well as disbursing cash to those who need it most. So far, with your help we've successfully distributed: $5,100 to BIPOC individuals in the Lake Charles area; $3,000 in supplies to Sulphur (rural SWLA); and $14,840 to evacuated individuals in New Orleans and SWLA through the Emergency Cash Program. We continue to work on getting more ATMs active for the Emergency Cash Program to make it accessible to as many people as possible — as well as responding to emerging needs throughout recovery. Our most recent emerging need is for laptops, so we're looking for sponsors and donors who can help us get these to evacuated children who need them for remote school at the moment. As of today, there are still 6,000 people evacuated to New Orleans from Hurricane Laura and Delta.
10/10: Hurricane Delta was the strongest storm named for the Greek Alphabet in history, and those of us who were working on Hurricane Laura Relief are now supporting the same communities through Hurricane Delta. As of today, we've registered 600+ individuals for accessible emergency cash assistance through a network of ATMs enabled for our program. That means we're providing at least $25,000 in low barrier cash support to those most impacted by both Hurricanes Laura and Delta. Over the next few days, we will continue to help individuals access their funds so that they can use the money to return home, see family, or purchase supplies that aren't offered through traditional support.
10/8 @ 3:24pm: We're continuing to disburse funds through our Hurricane Laura Emergency Cash Program ahead of Hurricane Delta. In the past few days, we have sent $40 in emergency cash to 219 evacuated individuals, totaling $8,760. You all are making this happen — Thank you so much for your support!
10/8 @ 10am: With a new storm on the same track as Hurricane Laura, we are now expanding the Hurricane Laura Relief Fund to include Hurricane Delta Relief. We expect Delta to make landfall Friday night or Saturday morning as a Category 2 or 3. The eye of the storm has shifted west, passing over the same communities that were hit by Laura back in August (see photos below). With a historically active hurricane season, we continue to need as much support as possible for both immediate relief and long term recovery. Please continue to share the fundraiser with your networks. If you're in New Orleans, we are also still supporting 6,000 evacuated people with food, clothing, emergency funds, storm information, and anything else folks need. Everyone has something to offer, even if it's emotional support or something as simple as a quick snack delivery. If you have Facebook and would like to help, find us at https://www.facebook.com/groups/MutualAidNewOrleans/.
Hurricane Laura's track is on the left; Hurricane Delta's current track is on the right.
10/7: As of today, we have completed a smaller, first round of disbursements from the Hurricane Laura Emergency Cash Program. So far, we have sent $40 to 23 individuals, totaling $920.
10/6: We're excited to announce the launch of our Hurricane Laura Emergency Cash Program! Thanks to your donations, we are now distributing $25,000 in $40 increments to 625 evacuated individuals. To keep people safe from COVID, we are doing this through text — and individuals are able to withdraw their own cash through a nearby cardless ATM, without ID or a bank account. While this is enough money to cover gas from New Orleans to Lake Charles and back, we are also encouraging individuals to use it for whatever they need most in this moment. We believe that those who are most impacted by disasters know exactly what they need. They deserve autonomy and dignity, even in times of crisis. The Emergency Cash Program and our Imagine Mutual Aid groups are both rooted in this value. Read more about the program HERE.
10/1: Today we drove 20 minutes past Lake Charles to Sulphur, Louisiana. Sulphur was hit hard but is more rural and has fewer resources. We used $252.05 from the Hurricane Laura Relief Fund to rent a van big enough to haul supplies, along with paying for gas to get there and back. Somehow (!?) we fit all of this in a 12-passenger van:
🔸 15 each of claw hammers, box fans, extension cords, buckets, and gallons of bleach
🔸 10 chainsaws
🔸 5 charcoal grills + bags of charcoal
🔸 12 handy bars for demolition
🔸 150 work gloves
🔸 3000 garbage/contractor bags for cleanup
🔸 an assortment of pest control supplies, tarps, generator oil, and batteries
This was the most powerful storm to hit Louisiana in 150 years. The people of Southwest Louisiana are still needing your support for relief and recovery. Please continue to donate and share!
9/28: We've now sent 30 Uber rides, have scheduled to drop off supplies in Lake Charles on Wednesday this week, and are working on a large disbursement of funds. New Orleans still has over 10,000 people who have evacuated to our city. This is a long term effort, with our organization leading the way as Black and trans, multigenerational native Louisianans. Please continue to donate as you are able, and consider joining the mutual aid group on Facebook to help out, one on one.
9/24: Much of our work this past week has been "behind the scenes" continuing to facilitate our mutual aid group, which now has 4,400 members and continues to support those who are still in New Orleans (still over 10,000 people). The biggest need at the moment is suitcases — the group has fulfilled 40+ suitcase requests in the past few days. On Wednesday, we completed our last reusable bag run to the Resource Center, bringing our total number of bags collected/sorted/delivered to over 3,000. We're working now to support those who are being sent home or moved around to different shelters in the city, and those who are trying to navigate FEMA assistance. In the past week, we have also sent 18 free Uber rides to folks who have evacuated and do not have transportation to get to the store, pharmacy, doctor, and other essential resources. This resource is ongoing until we reach 50 rides, so if you know of folks who need a ride, have them reach out to us on social media! If they don't have internet access, please help out by contacting us on their behalf (with their consent, of course).
9/15: Whew, we've been busy preparing both New Orleanians and evacuated folks for Hurricane Sally. We received an update this morning that Sally would not hit New Orleans — we're grateful but staying in touch with our partners in Mississippi and Alabama. We've also been working on our next large disbursement of relief funds and will be excited to provide an update next week (or sooner if possible!). In the meantime we've helped Cathy, a hairstylist who evacuated here from Lake Charles, set up a temporary salon within her shelter to provide free haircuts to others while there:
We've worked with Home Depot to secure chainsaws, buckets, bleach, box fans, extension cords, and other supplies to help folks clean out their homes once they're able to return. And we have a shipment of 3,000 brand new socks on the way! We're doing our best to secure supplies and resources that aren't typically covered in traditional disaster relief. Many thanks to everyone who has helped along the way.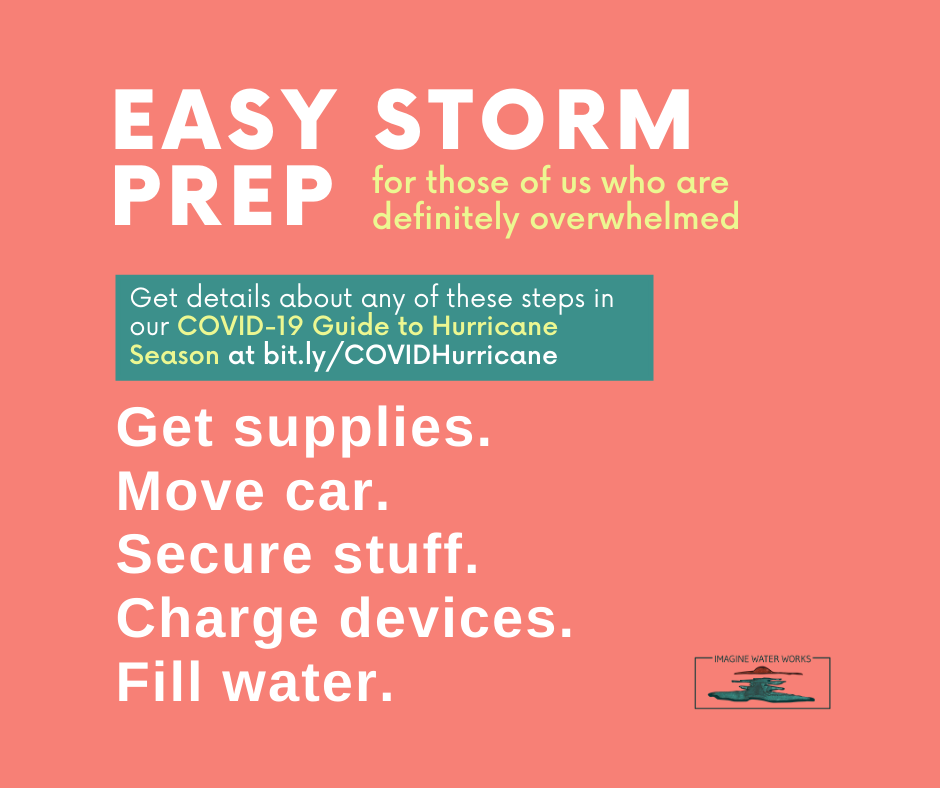 9/10: Tonight we were grateful to be a part of a virtual healing event and fundraiser, reflecting upon the lasting impact of Hurricane Katrina on our city — and in particular, on Black artists. This was a time for Black New Orleanian artists to talk about growing up in New Orleans, our experiences with Katrina, and the ways we imagine art can preserve history and shape the future of our city. We also reflected on Hurricane Laura and what that will mean for coastal Louisiana in the years to come. The panel consisted of Maha Chielo, @bmike2c, @phillipmyoumans, @dawnrichard, and a musical performance by @mykiajovan. Our Managing Director, Monique Thomas, spoke about the work we're doing to provide relief for Hurricane Laura survivors; and @stephaniemckeeanderson, Executive Artistic Director of @junebugnola, provided closing remarks and shared a film about New Orleans.

Our partners for the event were @blackfilmfestno, @wift_louisiana, @novacvideo, @neworleansfilmsociety, @thedreamdefenders, @blackpublicmedia, Junebug Productions, @sisterswithinvoices, and @thecreatedaily. Thank you for showing up, everyone!
9/9: When Hurricane Laura made landfall and we launched this fund, we were told that there would be 800 people evacuated to New Orleans. We are now up to 12,000 people (officially) and growing. As such, we are capping the direct regranting portion of the fund at $62,000 to focus on adding much-needed immediate and long term support for folks evacuated here to the city, as well as longterm recovery efforts for Southwest LA. Any additional funds raised will go toward general costs such as printing flyers, expanding our 24/7 crisis response team, and supporting our overall work on Hurricane Laura Relief and Recovery. We are the only local BIPOC and trans-led disaster relief group on the ground for the 12,000+ people who need services right now in New Orleans. We're also led by multi-generational native New Orleanians who went through Hurricane Katrina and know what it's like to be displaced; we bring that care to our work. The situation is dire and we still need your help. In the last week alone, we have fact-checked and facilitated over 5,000 interactions in our online mutual aid group — this does not account for all of the DMs, text messages, phone calls, VOAD meetings, and in-person actions that have been happening simultaneously. We do this transparently and welcome anyone to check out the group to see who we are and how it works. We also post a steady stream of screenshots and photos on our social media platforms if you're looking for even more frequent, detailed updates!
9/8: Wow, thank you all so much for the support! We have been incredibly busy, but please know that we see you out there helping folks and supporting our work. It means the world to us. This week we worked with individuals, nonprofits, and small businesses to collect and deliver 1,000 bags to the Resource Center. The Resource Center sees about 500 people per day, so the bag donation drive is still going — if you're in New Orleans, check out our Facebook or Instagram to find the drop-off locations (Lower 9th Ward, West Bank, Mid-City, and Magazine). The mutual aid group is also picking up excess food and bringing it to hotel shelters with less food, stocking community fridges, dropping off microwaves and mini fridges, doing laundry for folks, delivering specific hygiene products, brooms, vacuums, and more. We're dropping off cleaning supplies now because the hotel shelters (1) are not cleaning the rooms and (2) do not offer cleaning products for folks to do it themselves. Tonight's heartwarming moment was when a mother asked for help baking her kid a birthday cake — he's going to have so many awesome cakes now! It's been amazing to watch folks step up for each other in so many ways. All of it is important.
9/7: When the government shut down the Resource Center for three days in a row, we stayed open. That means we are one of the only places where folks can ask questions and receive support right now. We'll be in touch again soon with more details! In the meantime, you can always stay in touch and see what we're doing on a daily basis via our Facebook, Instagram, or Twitter.
9/1: We now have 9,200 people staying in 30 shelters/hotels, which means likely more than 10,000 people sheltering in the City right now. Additional people are now being directed to go to the "mega shelter" in Alexandria, Louisiana. Yesterday, we collected and dropped off bags at the Resource Center so that folks wouldn't have to carry supplies back to their hotels in their arms. If you have bags to spare, check out our social media channels for places to drop them. If you live in New Orleans, you're invited to join us in the Imagine Mutual Aid Facebook group — people who have evacuated are asking for exactly what they need. This is a chance to deliver it to them. Lots of needs getting met, including strollers, specific clothing items, and other mobility devices. Some requests still need more support. More requests are coming in. Given the increased numbers from when we first launched the Hurricane Laura Relief Fund, we've increased the fundraising goal to $100,000.
8/31: Photo update. Top image (Reuters): Two individuals from our "Street Team", talking with folks and helping them log into the mutual aid group so that they can ask for what they need. Bottom image (Imagine Water Works): Piles of clothing on the ground. For safety and accessibility reasons, we are asking folks to respond *directly to requests from individuals* instead of dropping off boxes of donations. People deserve the right to state their own needs, and they deserve to have things handed to them — not to pick it up off a street. We have a solution to that. More about that can be found on our Facebook post here.

(Top photo from Reuters)
8/30: We are now at 6000 people staying in hotels across the city. Yesterday we gathered more volunteers and prepped our 3,100 member New Orleans mutual aid group for a large influx of requests. Today we printed 1000 additional flyers (see below) and are on the frontlines, walking the streets: listening, offering emotional support, noting immediate needs and barriers, continuing to direct folks to our Mutual Aid group to receive support, and helping folks get into the group. The group is a platform for people to state their own needs, instead of having others speak for them. Those who are most impacted deserve a voice and a say in where funding goes and what supplies they receive — free of judgment. And they deserve to be met with care and compassion.
8/29: Received confirmation that more than 3000 people have now evacuated to New Orleans. We expect to see at least double that as more make their way here. We are working with shelter organizers to respond to needs as they come in. The Fund will continue sending half of its donations directly to groups led by BIPOC Southwestern LA residents once they are ready to receive them. Half the funds are remaining here in New Orleans to support those who have evacuated + long term needs as they arise and as funds allow. Right now, the best thing to do is still to donate directly to small local organizations — whether that be us or others.
8/28: We've sent our first $5000 to the Atakapa-Ishak Nation, whose territory spans both Southwest Louisiana (The Sunrise People) and Southeast Texas (The Sunset People). Thank you so much for supporting the fund and making this possible! We have also received confirmation that at least 2000 people are sheltering in New Orleans right now. We have delivered 700 flyers to the three hotel shelters in New Orleans, directing folks to our Mutual Aid group to receive support. As the need is large and growing, both in SW LA and in New Orleans, we've increased our fundraising goal to $50,000.
8/28: We are in contact with local groups and individuals on the ground as they get their footing, gather their people, and in some cases are sheltering. Please be patient. Funding those most impacted means giving them a moment to gather their thoughts and see where the need is. Disaster funding often goes to large, non-local groups because the waiting period feels uncomfortable. We are challenging this default and moving forward with intention and care, following local BIPOC leadership.
8/27: So far, we have also received $485 through Venmo to add to the total above. At the moment, much of Southwest Louisiana (SW LA) is still very much a "disaster area" with chemical spills, evacuation traffic, and dangerous roads. We are encouraging individuals from outside of SW LA to stay put — roads are closed and emergency personnel need to be able to do their jobs, focusing on the local community. We are assessing the situation and working with hyper-local BIPOC partners to send funds to SW LA as soon as possible.
8/26: The fund's first $100 went to a family on Pecan Island who missed the last evacuation bus and needed baby formula, gas, and transmission fluid to be able to emergency evacuate to Baton Rouge.
8/25: Hurricane Laura is expected to be a Category 4 when it makes landfall in Southwestern Louisiana this week. Knowing this, we are getting ready + encouraging folks outside of Laura's direct path to support relief efforts as the situation evolves. This fund, in particular, was created in our "Imagine Mutual Aid: COVID + Hurricane Season (New Orleans)" group as one way to direct resources from New Orleans (and beyond!) to those who will be most impacted by the storm.
---
More about the organizers:
Imagine Water Works is reimagining the future through art, science, and connection. Our core focus areas are water management, climate justice, and mutual aid + disaster readiness and response.
Our other current projects:
Mutual Aid Response Network
Anonymous Storm Prep Q&A (Instagram)
Imagine Mutual Aid (Facebook: New Orleans & SWLA)
2021 Hurricane Season Guide
COVID-19 Guide to Hurricane Season
Queer/Trans Guide to Hurricane Season
Art of Science / Science of Art Symposium
Little Library of Water
Business Survival Handbook
Joy of Water: A Resident's DIY Guide to Becoming Water Wise
Learn more about any of the projects above on our website: www.imaginewaterworks.org
Choose amount
Payment
Information
Payment








