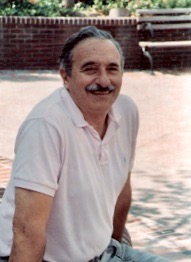 Eric John Graham

Eric Graham's life spanned nearly nine decades. His adventures and work took him to many countries. Through his many years and travels, the enduring thread that ran through each day was his faith in God, his loyalty to his family and friends and his abiding love of his wife of over 60 years, Paddy.
Born in Newcastle upon Tyne, England, he was the eldest of son of John Henry & Francis Graham, and brother to Peter. He worked hard in school and had a brilliant mind. He was captivated by how things worked, and enjoyed the process of problem solving, no matter the size or scope of the project. He was well suited for his chosen career of Mechanical Engineering. He was generous with his time and talent; uncovering solutions, whether great (designing and building a home, church or locomotive) or small, like home projects, tinkering with vintage MG's or a model train track for his grandsons.
He began his career, and he might say his life, in his beloved South Africa. It was here he met Paddy, established his family with three children, Jenny, Shirley and John. He also built a successful business, Klip Pipe, which provided South Africa with infrastructure for rapid development in the 1970's.
The chance to immigrate to America came in 1978, which he thoughtfully considered and then accepted the opportunity for his family. The sacrifice it meant to him personally; leaving behind the land and people he loved was eclipsed by the promise of a better life for his children. They settled in a suburb of Atlanta, Georgia.
Eric's new company offered big challenges for his expertise in engineering. Over the years, he designed machinery that accomplished great tasks with speed and precision. A new opportunity arose in South Georgia with AMOCO in the 1990's. With his children all married, he and Paddy moved to Hazlehurst, GA. It was here he and Paddy made a home, retired from AMOCO, tinkered with vintage MG's and enjoyed improving their home and visiting kids and grandkids.
He is survived by his beloved wife, Paddy, his daughters Jenny Breedlove and Shirley Goins, son John and their spouses Allen Breedlove (Jenny), Wesley Goins (Shirley) and Ann Graham (John). Grandchildren Dane, William, Christopher, Anna, Emily, Grace and Great Grandchildren Emery, Landry, Finley, Colton and Amelia.
Eric's presence on this earth and in our lives will be truly and sincerely missed. Surely his soul will rest in peace knowing he loved, and was loved greatly. Eric John Graham, we know you are well prepared for this, your last adventure. Godspeed, until we meet again.
...
The Graham family requests that in lieu of flowers, donations be made to help children with osteosarcoma, bone cancer. A cause dear to Eric's heart as daughter-in-law Ann suffered this disease and founded this 501c3 nonprofit to Make It Better (MIB) for kids with this debilitating and often fatal disease.
The Mission of M.I.B. Agents is to Make It Better for children with osteosarcoma, bone cancer. With love and hope, M.I.B. Agents:
Pairs a child in treatment with a survivor of their same cancer including through MiB Gamer Agents.
Provides items of comfort and entertainment (iPads, iTunes Cards, Noise Cancelling Headphones) for their treatment and recovery
Arranges end-of-life experiences and/or comfort items for the child when options for treatment have been exhausted and they are on home hospice care.
Raises funds and awareness to increase research for better treatments and outcomes for those with osteosarcoma, including through the only osteosarcoma research conference, FACTOR and through our annual $100,000 funding initiative, OutSmarting Osteosarcoma.
M.I.B. Agents makes it better by helping to increase the quality of comfort and life for kids with osteosarcoma with the help of our community of dedicated and passionate Agents. We are committed to Making it Better for adolescents and young adults with bone cancer (osteosarcoma). Your donation has a profound and direct effect on our missions.
A receipt will be provided for your taxes. If you prefer to mail a check:
Payable To:
MIB Agents (please include "Eric Graham" in the memo line)
PO Box 858
Barnard, VT 05031
Thank you for using your powers for good to Make It Better for kids with osteosarcoma in honor and memory of Eric Graham.
FED ID #81-1109906
MIB Agents is a Section 501(c) (3) charitable organization, EIN 81-1109906. All donations are deemed tax-deductible absent any limitations on deductibility applicable to a particular taxpayer. No goods or services were provided in exchange for your contribution.
Choose amount
Information
Payment






