Edited 05/23/22
05/23/22
---
The personal story of D. and how your support impacts his life:
D. fled his hometown when he was 16 years old, after fearing for his own life for participating in the student protest movements of Kashmir. D. had watched how some of his friends were imprisoned and severely punished - the Kashmir conflict has cost hundreds of lives in the past years and violence keeps on rising: only in the month of October 2021, 33 civilians were killed.
On his way through the Balkan Route, Daniel recalls how he was detained in the Bosnian/Croatian border by a group of uniformed men. He was traveling with his friend K., some years older than him, who got severely beaten. Their possessions were taken away from them, including their shoes, telephones and money.
When Daniel asked to make an asylum request in the police station, the officers decided to put him in a van and drive him back to Bosnia without further explanation. After being dumped at the border, barefoot, he improvised a pair of shoes with empty energy cans.
D. finally arrived to Bihac in September 2021 and contacted No Name Kitchen via Facebook. He received the shoes and clothes he was missing, as well as a sleeping bag, blankets and hygiene products. Since then, Daniel participates in the solidarity grassroots network in Bihac by giving out shoes and other items to people who have been pushed-back because, as he says, "there is no need for charity when there is justice".
He is now 23 years old and he is still on the move.
Edited 04/25/22
04/25/22
URGENT CALL: SHOES!
One item that is crucial for people on the move's wellbeing and their ability to continue their journeys in the north of Bosnia and Herzegovina are the shoes they wear. RIGHT NOW, SHOES ARE THE ITEM WE ARE ASKED FOR THE MOST. For people on the move, walking large distances is a significant part of their life reality here. Often times, their feet and their shoes are the only things they can rely on to go places, be it to the supermarket, a place to take a shower or to receive some food. PUBLIC TRANSPORT USAGE IS HUGELY RESTRICTED FOR THEM IN THE AREA.
Besides, the Croatian border police routinely makes use of DISTANCES AS A FORM OF TORTURE AND DETERRENCE. Every day, people on the move tell us that when trying to ask for asylum in Croatia, they were instead deported to places from which they could only return to Velika Kladusha by walking for hours. As if this practice was not inhuman enough, we have also collected MANY TESTIMONIES FROM PEOPLE ON THE MOVE THAT DESCRIBE HOW THE CROATIAN POLICE EVEN STOLE THEIR SHOES DURING THE PUSHBACK.
All these cruelties must be stopped politically. But for as long as they remain the reality here in the Northwest of Bosnia and Herzegovina, we rely on your donations. For shoes more than for any other items, receiving big amounts of appropriate donations in kind is almost impossible. If people on the move wear shoes that are not apt for their needs, for example too heavy or uncomfortable, it is not only painful and an additional stressor but can also be a real risk to their health, as open wounds can become infected. Therefore, WE RELY ON YOUR FINANCIAL SUPPORT TO BUY LIGHT, COMFORTABLE SPORT SHOES AT LOCAL BOSNIAN STORES, SO THAT PEOPLE ON THE MOVE CAN CONTINUE WALKING AND FIGHTING THE SYSTEM.
Edited 04/04/22
04/04/22
SLEEPING BAGS NEEDED URGENTLY!
Even though the Spring has officially started, temperatures are lower than ever and, unfortunately, we have ran out of sleeping bag. Our fellows Matt and Justin explain the situation in the following video:
12/30/21
DISCOVER THE GREAT IMPACT OF THE VOUCHERS FOR REFUGEES AND LOCALS!
06/16/21
VOUCHERS4FOOD NEEDS TO EXPAND TO A NEW TOWN
We want to reach a village where dozens of migrant families are living in the north of Bosnia and Herzegovina with our "voucher for food project". Two shops want to join our project, but we need funding to cover the costs.
VOUCHERS FOR FOOD: people receive a voucher with a code via Messenger and they can go to a supermarket to buy the food and hygiene products they need for a week. This project has been running in Velika Kladusa since the 2020 lock-down and has reached more than 1,000 people on a weekly basis.
People like it because it gives them the freedom to eat what they prefer to eat and the hygiene products they need.
Now we want to reach a nearby village where dozens of migrant families live. We have already spoken with two local supermarkets that would like to be part of the project, but we need the funding to cover the costs.
The idea of VOUCHERS FOR FOOD was born in the midst of global lock down in 2020. Because of border closures and restrictions, there were few hands in Velika Kladusa to help reach all the migrants living there. If the food cannot come to the people, let the people have the choice to come for their food. When the lock down started, all the businesses everywhere were at a standstill, except for the food shops.
That's when we saw that bakeries and supermarkets were the only option to offer food. We talked to several bakeries and came to an agreement. No Name Kitchen gave them money and people could go shopping with vouchers that they received through a Messenger chat, and exchange them for pizza, pita or bread, among the typical foods of the Balkan Pekaras or bakeries.
It worked very well and we saw that it also boosted the local economy, which, like all small businesses in the world, has been greatly affected in these times of pandemics, and it fostered relations between locals and people from other countries. A good way to eliminate prejudices. In fact, the bakers wrote to tell us that they were very happy with the project.
At that time we looked for more funding and we were able to do the same with supermarkets: with the vouchers, people can buy food and hygiene products. Different organisations and people supported this idea and this is the way that it can keep going. We distribute cooking utensils to migrant people so that they can cook.
The best thing about the project is that people can choose what they eat and what they buy. Distributions are often marked by standardisation - often necessary for efficiency reasons. But people are not just numbers. We have to think of them as the beneficiaries of a chain of aid, but in most cases they are shown as passive agents who, moreover, seem to have to be grateful for being the last link in this chain of charity. This is something that No Name Kitchen always tries to avoid.
The volunteers who run the project from a distance are "hidden" behind a Facebook Messenger with a fictitious character. It is not easy for everyone to see themselves in the position in which the refugees are, with all their savings spent on the road and having to ask for help. If the person on the other side is more or less unknown, we have seen that the person asking for help feels more comfortable.
The person says how many people are in their group and explains where they live (there are supermarkets in different parts of the town and the surrounding area). This way everyone can impose their own criteria. In our organisation, we don't care if someone likes a bag of chips and a coke more than a plate of rice.
01/20/21
News from Lipa : The Camp 2.0 is a catastrophe
Why Lipa 2.0 is a catastrophe for People on the Move?


1. Lack of Electricity while freezing temperatures

Currently temperatures in Lipa are at day and night in the sub-zero range. One night it reached -14°C. And in this freezing winter period people are living in snow covered tents where many of them still don't have a heating system! There are only 20 heaters for around 35 military tents, according to what people tell. "There is not enough fuel to run the generators for a whole day. Daily around midnight the lights and the heaters turn off." says one person who lives in one of the military tents. Another person adds: "When we wake up in the morning, it is icy cold in the tents where we sleep."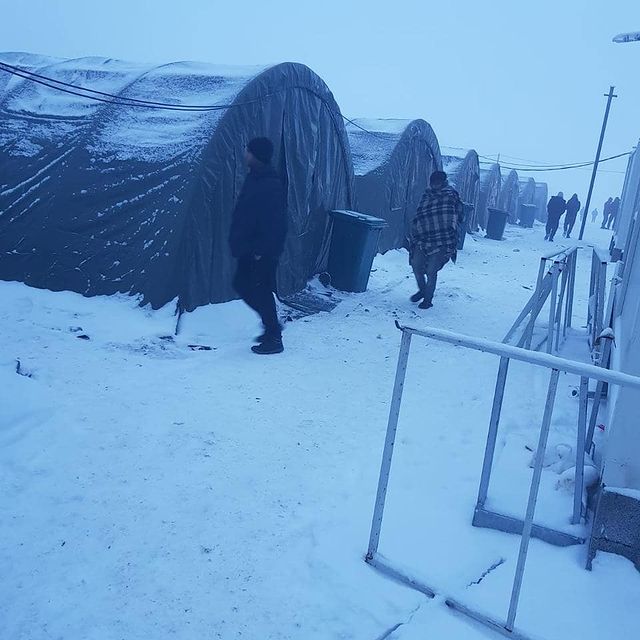 2. Lack of Political Decisions
There is no information that politicians either at a local, cantonal, national or european level are going to take any soon decision to make the situation of the People on the Move easier or human.

People on the Move need a political decision for a solution now ( @european._.union)

The situation in Lipa 2.0 is a catastrophe.

Photos by Eddie, person living in Lipa
Text by NNK Team Bihać and people living in Lipa
Edited 01/08/21
01/08/21
Testimony from Lipa Camp