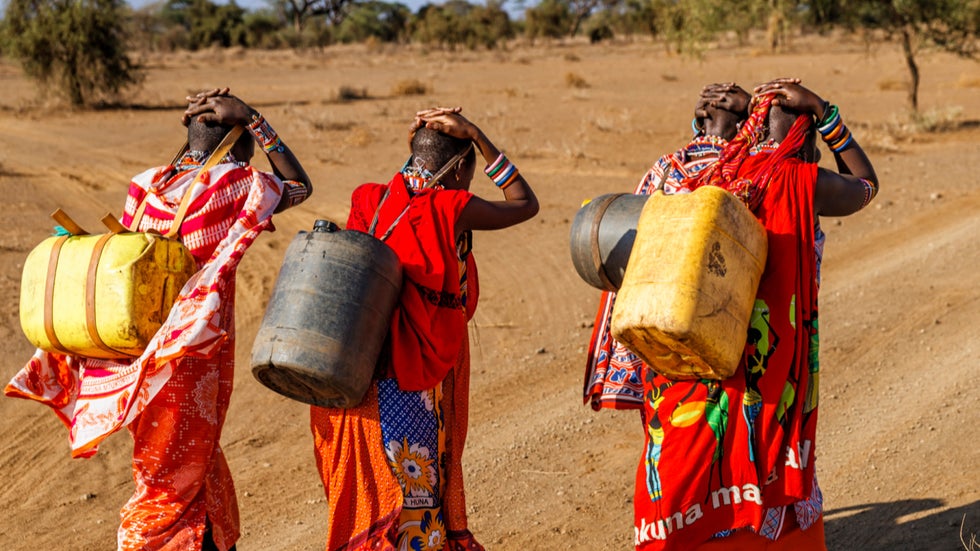 Sustainable Development Community e. V. (SDC.EV) is committed to providing clean water to Maasai families suffering from prolonged droughts and water-stressed areas. SDC.EV implements its programs in the Kajiado County of Kenya, one of the most drought-affected counties in Kenya. SDC.EV is working to provide short-term and long-term solutions for the Maasai communities suffering without clean water in Saikeri, a water-stressed area with approximately 3500 people.
The new weather patterns are threatening their way of life. As the rains have become shorter, and less predictable, in recent decades, the herders have had to leave home for many months at a time to look for pasture and water. The sight of Maasai men from Magadi, with their red "shuka" cloaks, guiding cattle through Nairobi in search of grass has become so common it barely draws attention.
The women, children and elderly are left to fend for themselves, hoping that their only source of wealth – the cattle – can survive the dry season. If not, the devastation can be too much to bear.
Currently, we have an emergency situation where Maasai women and children are forced to walk 30+ km in search of dirty water for their survival. Women's safety is at risk due to walking amongst the wildlife population of lions who are also seeking water during the dry season, increasing the chances of human-wildlife conflict.
Maasai girls are missing school and drop out rates are increasing because they are forced to help their mothers collect water at unbearable distances. Elderly people and people with special needs find themselves helpless. We have several communities including Saikeri and the surrounding villages that are struggling for survival.
We are seeking generous donors to assist SDC.EV in trucking in clean water immediately to assist Maasai families in dire need. We have planned to buy two 10000 liters tanks to fill them with 10000 liters drinking water by trucking two times per month. The duration of this emergency campaign should last at least 4 months.
Sustainable Development Community e. V. provides emergency relief by trucking in water and filling 20,000-liter water storage tanks to deliver life-saving support to keep Maasai community members alive and healthy during droughts.
_______________________________________________________________________________