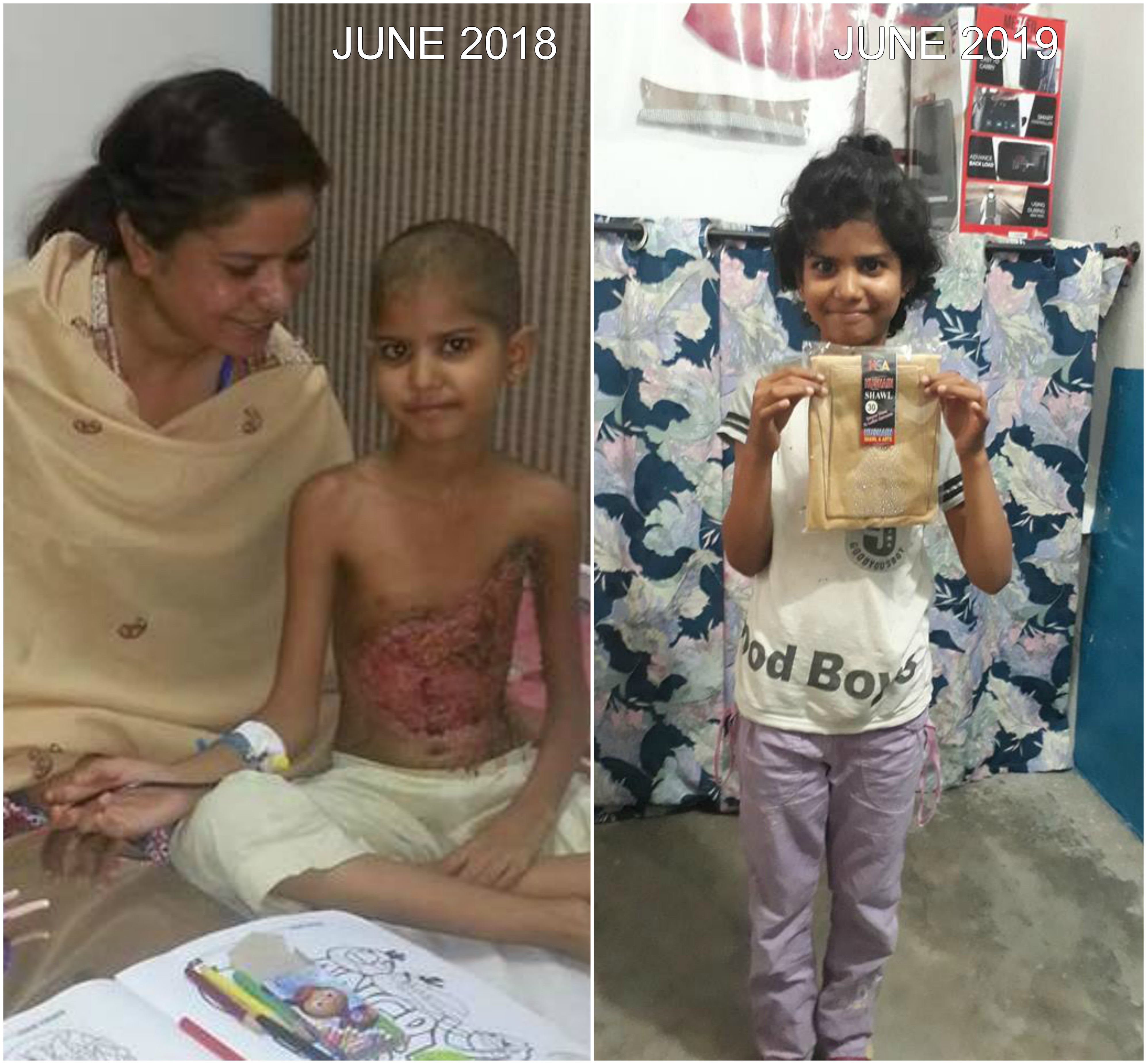 This is our 9 year old student Meerab who has to take care of her four younger siblings. She cooks food, gives them showers, cleans house, wash clothes and come to school everyday As per Government's instructions. We sent our students on summer vacation in May (2018) and on last day of her school when she went home she was heating up lunch for her siblings when fire caught her clothes. Her parents were at work at the time. Her younger sisters are too young to help so until neighbors came for help her belly,one arm and back were burnt badly.
Her parents kept her inside a room for a month where there was no light, no fan and no treatment they thought now she is useless therefor it is better for her to die. We were unaware of it because she was not coming to school because of summer vacation but when last week someone told me and I went to her home I saw blood and puss was coming out of her wounds. she was lying down completely silent and she was stinking so bad and her skin color was turned off white because of continues loss of blood. Because of no treatment and very bad behavior by her parents I requested her parents to allow me to bring her to a hospital but they did not allow. I sent my mother but they refused. I sent some respectable people from the village but they denied then I went with my team and gave them warnings that they are killing their daughter and this is a case of murder so I will call the police if they will not let me bring her to a doctor.
After three days' effort I was able to bring her to Lahore two hours' drive on each side from my city because there is no burn center in my own city but three big hospitals denied to take her because she was almost dead. For four days I went from one hospital to another but no one took her then a friend of mine who is from Pakistan but lives in USA heard her story. she used her links and contacted a very famous doctor in Lahore who finally admitted her in a private hospital. Now she is getting treatment.
We are giving her very good diet, like juices, meat, fruits and eggs etc so she can make more blood, her wounds have been cleaned. Thank God her life is now out of danger but we still need ongoing support for her ongoing care because it will take 3 to 4 years to get her completely healed from this condition. We know that even then she will never live completely normal but we are doing our best to give her the best life possible considering the condition she has been in. We believe that she can live a good life and be successful. Please consider making a monthly contribution of any amount so we can continue to ensure her future.