Support for Art activities
We are looking for support to continue our production activities, presentations, and exhibits.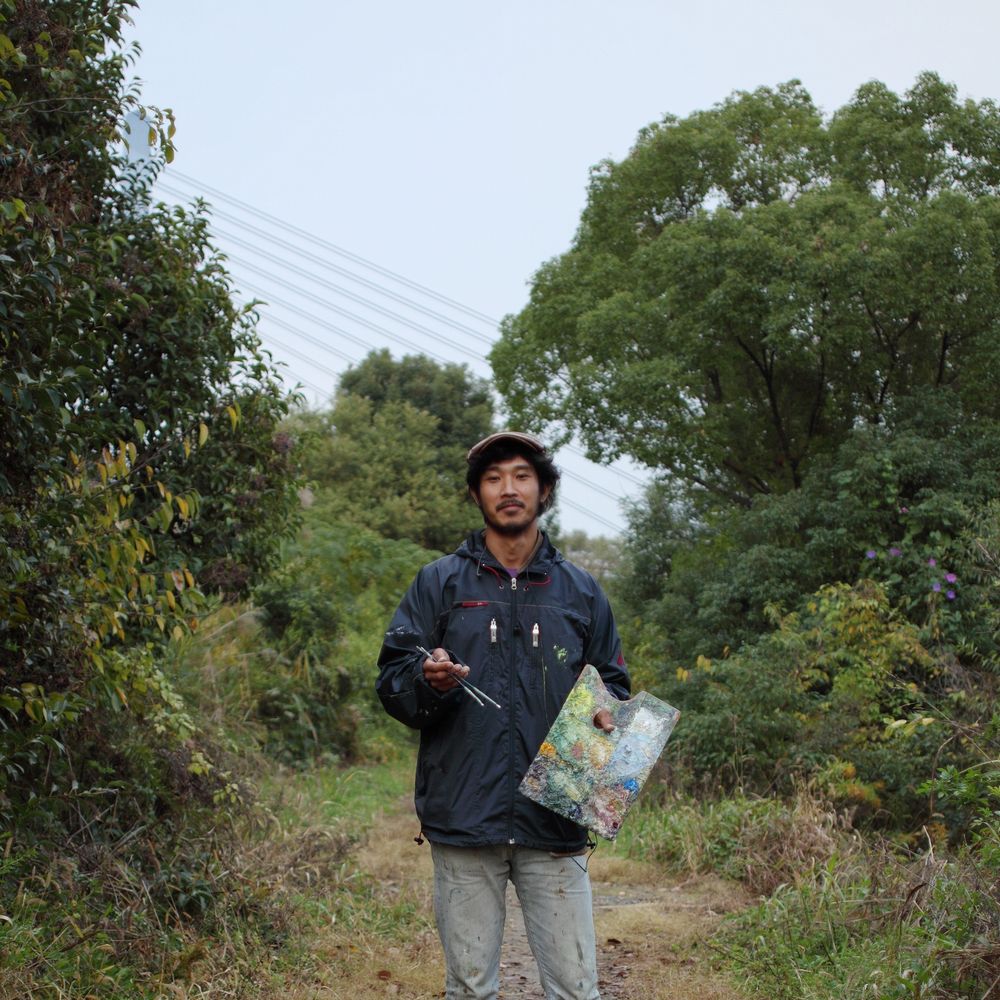 Self Introduction
In 2010, my then-girlfriend (now my wife) gave me an oil painting set as a gift for my 30th birthday.
When I put oil paint on canvas for the first time, it was a tremendous shock to my whole being.
I had been trying to express myself by playing the guitar and composing music for about 10 years, but it was impossible. I tried to write, but it was impossible. I couldn't shake the uncomfortable feeling in my heart, but it was the moment when everything was blown away by the oil painting set.
Since then, I've been completely self-indulgent as if I were letting the shock take over. I didn't have time to work part-time at all because it was a waste of time, and I just kept drawing and spending my days sublimating myself and my works.
At present, I cannot express in words what I am aiming for, but I have a sense of what I am looking for.
In order to get closer to it, I needed to change my environment, so I decided to move from Osaka City to Otsu City in Shiga Prefecture. This is the point in time when I have been living as a painter for almost 11 years.
I am well aware that it is difficult to convey the message, but I am getting closer and closer to what could be a valuable painting for the future world.
I have no affiliation, and I am not an art student. And I don't know anyone who does. I have no intention of making one.
I personally feel that a pure painting is not something to be competed with and mastered, nor is it something to be sublimated by painting over one's thoughts according to the "context" of the art world.
I work in the field, facing nature every day. It is just a sketch, but I am trying to express myself, to paint "seeing" beyond feelings, and to leave behind the wonder of this world we live in through painting. At the moment I can't distinguish whether I am painting the world or my consciousness.
However, I feel that if I continue to develop this style, my work will be valuable to future generations.
I don't really know why I am a field artist, or why I paint only landscapes. I feel that there is something to it, because I have just been faithfully following my senses in places that have nothing to do with my intentions.
What will the work bring to people?
I don't know myself (if I did, I would see it as impure and a waste of time), but I have seen people shed tears when they saw my paintings three times in the past. I don't know why, but it made me realize that I have the power to move people's hearts.
As the title suggests, we would like to ask for your help in continuing our artistic activities.
About Returns
Your name will be permanently listed on the website and at various exhibition venues. If you have any other requests, please let us know. We will do our best to accommodate you.
First of all, I would like to thank you for reading the long text I translated using DeepL.
Thank you very much.
 Hiromitsu Fujiki
Choose amount
Information
Payment






