Support for Art activities
We are looking for support to continue our production activities, presentations, and exhibits.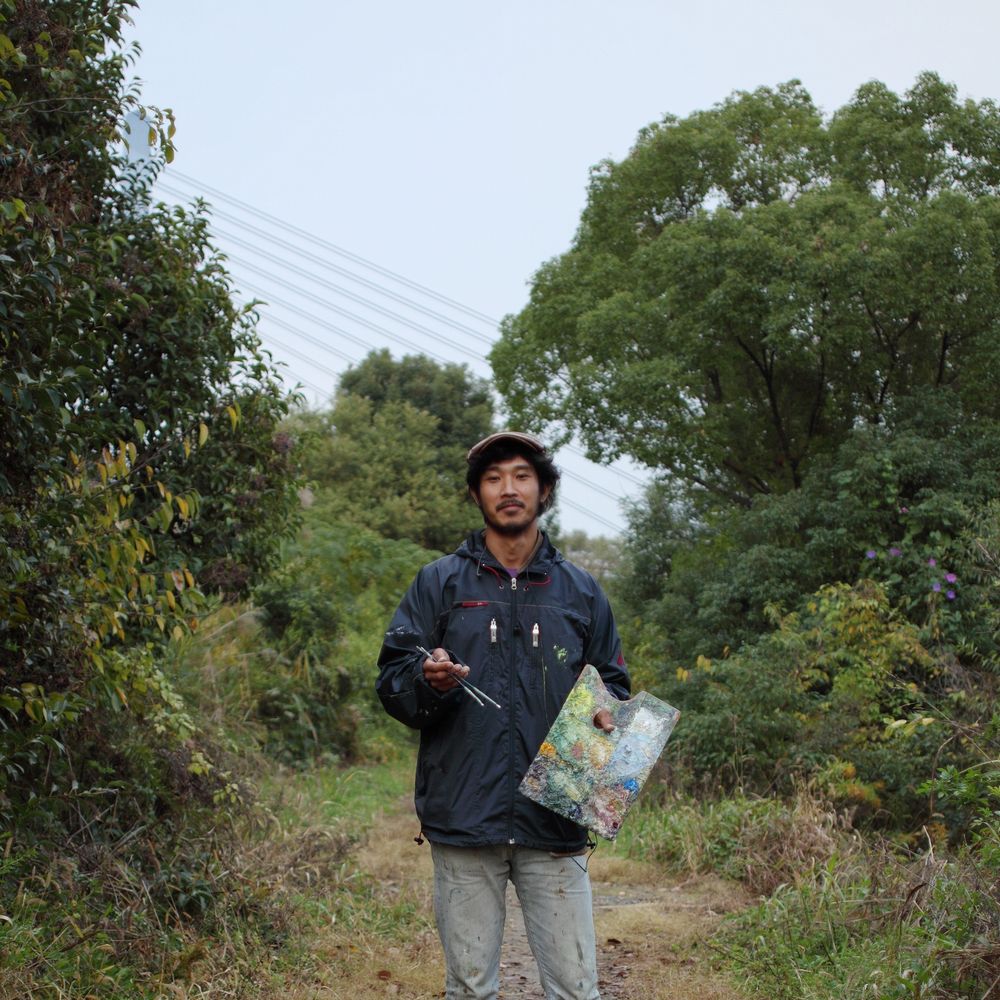 Self Introduction
I had never been involved in art at all, but for my 30th birthday in 2010, I received an oil painting set from my then current wife.
When I put oil paint on canvas for the first time, it was a tremendous shock to me.
I had been trying to express myself by playing the guitar and composing music for about ten years, but for the last three years or so, I spent my days in a dead man's state. I even dabbled in fiction, but I couldn't shake the uncomfortable feeling in my heart, but that was the moment when oil paints blew everything away.
Since then, I have been painting completely selfishly, as if I were letting the shock take over, and I have spent my days sublimating myself and my work for more than ten years now.
Now, I cannot express what I am aiming for in words, but I can look at it as a sense.
In order to bring my work closer to the ideal that lies beyond my gaze, I wanted to start from the environment, so I moved from Osaka City to Otsu City in Shiga Prefecture. This is the point in time when I have been aspiring to become a painter for almost 11 years.
I know it's hard to convey, but I'm getting closer and closer to what could be a valuable painting for the future.
Although I have no affiliation and am not an art college graduate, I personally feel that pure painting is not something to be competed against with others, nor is it something to be sublimated by painting over thoughts.
We face the world and create in the field every day, and our perception keeps changing. The awareness of "seeing" expands the world to new worlds and then to new worlds again.
Due to my own nature of wanting to keep my personal feelings and thoughts to as little as possible, I am currently unable to distinguish whether I am painting the world or my consciousness, but I am trying to preserve the wonder of this world we live in through my paintings.
I feel that by furthering this style, my work will be valuable to future generations.
I don't really know why I am a field artist, or why I paint only landscapes. I feel that there is something to it, because I have just been faithfully following my senses in places that have nothing to do with my intentions.
What will the work bring to people?
I don't know myself (if I did, I would see it as impure and a waste of time), but I have seen people shed tears when they saw my paintings three times in the past. I don't know why, but this event made me realize that I have the power to move people's hearts.
This is a long story, but as the title says, please help us to continue our artistic activities.
About Returns
Your name will be permanently listed on the website and at various exhibition venues as you wish. If you have any other requests, please let us know. We will do our best to accommodate them. We can also provide each work.
Thank you very much for your support.
 Hiromitsu Fujiki
Choose amount
Information
Payment






