UPDATE...
Thankyou all so so much. We've been to Romania and started the build, we are nearly finished. One thing that really has concerned me is just how cold and damp it is. The wooded kennel boxes are just not good enough, they are OK but offer no insulation to remain warm. It was - 3 when we was there, it was freezing cold. Cleaning the pens with plenty of disinfectant and water just wasn't an option as they remain wet and damp with no way of drying them correctly, the dogs get wet and the weather is just so cold. We can't leave coats on as they get wet and then freeze to the dogs body 😩
We are going to buy insulated and heated dog kennels with a storm curtain, the dogs will be lovely and warm and importantly dry.
We built the pens with insulated roof and sides also added a slight height increase to the floor to allow the water and disinfectant to drain away better.
In addition we dug a water well, had solar panels fitted, got a storage container for food and supplies to be stored correctly.
We stocked up on straw for plenty of bedding (we can't use material bedding just yet as it gets wet and offers no warmth for the dogs) in the new insulated kennel houses we can add this bedding as will stay dry.
I've now increased the target (sorry) to try and buy these kennel houses, they are approx 410 euro each and we need 40 of them 😩😬🐾
Having now experienced the cold and damp and realising the conditions first hand, we just must make it better for the dogs. No point in doing it if they still suffer. I hope you agree?
Thankyou all so much for your support and caring so much about these beautiful dogs and cats, it feels like we are moving bigger mountains at every stage but we have each other to get us through. Thankyou #teamdogbus
Update..
The actual target is £20,500 😲 I took off the £6000 cost for the solar panel system which will deliver the electricity to light and heat the shelter. I maxed out the dogbus credit card which we use for emergencies etc. This is an urgent situation so was justified. I hope to pay this credit back over the coming years. This is just to clear up any confusion as the target was originally set at £20,000 Thank you so much. Kris x #letsdothis
WE MUST ACT AND PREVENT HUNDREDS OF BEAUTIFUL DOGS AND CATS DYING ON THE STREETS DURING WINTER.
THIS IS AN URGENT FUNDRAISER TO BUILD AS MANY PENS TO HELP KEEP THE ANIMALS SAFE AND WARM. WE NEED YOUR HELP!
The Dogbus drives countless miles across the whole of the UK and Europe, rescuing and saving lives - lives that would otherwise have been LOST. UK Dogs about to be PTS. Dogs pulled from abuse situations, victims of neglect and unimaginable horrors. Dogs who have survived the China meat trade. Dogs rescued from remote areas of Romania, in danger of freezing to death or dying from hunger. Dogs from Pakistan in danger of being shot or poisoned.
Dogbus is making an URGENT SOS Plea to raise the funds needed to build as many pens as possible which will help save the lives of hundreds, if not thousands of Romanian street dogs and cats Upon completion of this project we will have built safe pens in our partner Romanian shelter - Monica's Romanian Rescue. These pens will be a safe haven for dogs who would otherwise suffer on the streets. Here the street dogs will not only be safe and away from the harsh streets of Romania, but they will also get much needed medical care and attention. They will also be able to recuperate after spay and neuter surgeries. And hopefully one day find a loving forever home.
Now this is the important and urgent part, these pens need to be built before winter sets in. Winters in Romania are particularly harsh and thousands of street dogs and cats suffer terribly during these months. Cold and hungry they desperately try to survive, but sadly many perish. This build will actually mean the difference between life and death for these dogs, but for this we need your help. We are planning to build in addition to what Monica and her Husband Edward have established. The block of pens will be covered by roofing which will be completely water proof. Inside each pen area we will have insulated dog box houses, to keep the dogs warm. We will be installing solar panels for the power needs, there is no electricity or heating at the shelter and these solar panels will help provide electricity and heating /cooling systems for the hot summers and freezing winters. This project will see the building of the pens within the large boundary wall, to protect the resident dogs, room for food storage, kitchen and a cess pit. Other costs will be CCTV, lighting systems and proper sewerage pipes, running the length of the shelter. The target may seem large but this will cover the purchase of all necessary building materials and items purchased to complete the set up plus other costs.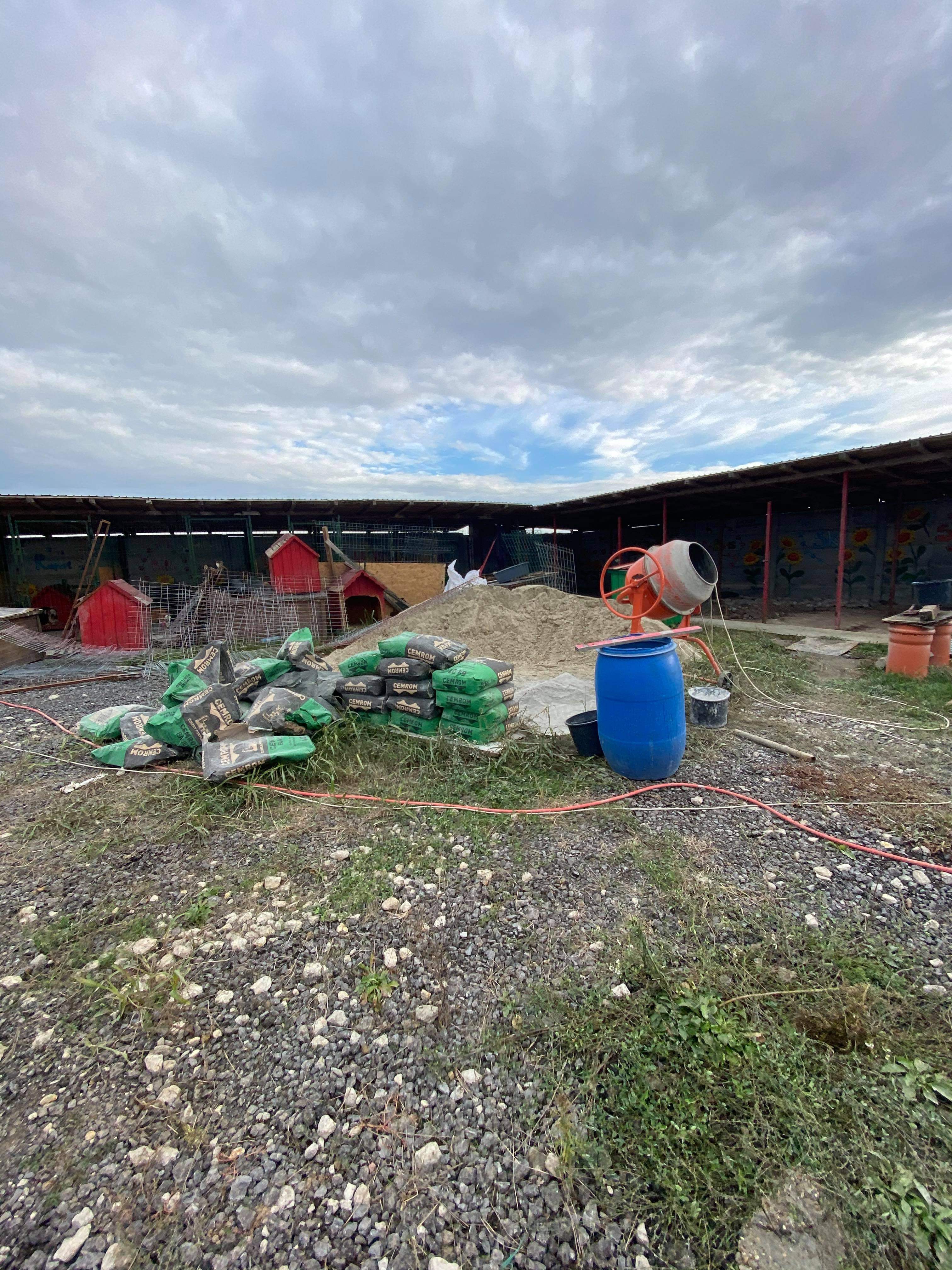 VOLUNTEERS
Have you ever wanted to help animals but life has just got in the way meaning your wish has not come true. well this is a once in a lifetime chance to help animals desperately seeking help. Come and volunteer for the big build and get too see first hand not only the animals that need your help but once work is complete you will see first hand the safe houses that you will have helped build.
Apply here Apply here
We are leaving on the 15th November 2020 and the return date is 23rd November 2020. Volunteers will have to pay for their own return flights which are approximately £80 return to Bucharest. Your food whilst in Romania should come to around £30 - £50, this is for self catering. You will need additional health insurances, to including a direct flight back should you become ill. In the region of £11 - £15 for the whole trip.
Each volunteer is required to find sponsors for a minimum of £150, (this is not mandatory) which will be payable to Dogbus fundraising pot. You can raise this sponsor money through car boot sale, ebay, Facebook and fundraising platforms such as Go Fund Me, ask friends and family or any other fundraising activities that you can think off. In return, you will get to travel to Romania and build a wonderful safe place which will save so many precious lives and can be dedicated to yourself or in honour of a loved one.
Dogbus will be providing accommodation for this trip, we are renting residential properties where you will be provided a single or double bed in private bedrooms. with access to self-catering facilities, washing facilities, kitchens and bathrooms.
COVID 19 restrictions
Currently the UK is not on the Romanian exclusion quarantine list. THIS MAY CHANGE. We will however, be required to complete the GOV UK travel locator form which is standard for everyone upon return - all details and links to be provided. Full social distancing measures will be in place during the whole trip. You will be required to wear PPE and maintain safe distances.
Deadline for application to volunteer for the big build is 5th November 2020. The later you apply the more likely your return flights may be. you are welcome to fly from any UK airport to Bucharest, Romania. All transport will be provided between airport - residence and shelter. You do no have to be there for the whole duration and its entirely up to you how many days you would like to spend for the build. So please if you can do any of the following
Bricklay
Laying concrete
Plumbing
Carpentry
Labour
Paint
General DIY
Cleaning
Volunteer welfare
Team mentor
Animal carer
or even just help p the animals at the shelter then what are you waiting for - click on the link and become a part of the Dogbus SOS SHELTER Build and start saving lives
We are all volunteers at Dogbus Transporting Paws Saving Lives. All donations raised via our fundraising platforms are all spent on running a responsible, dedicated animal rescue. All donation go to helping, supporting and rescuing animals. We rely 100% on generous donations made by our supporters, we receive no financial support from anywhere else. Thank you for your help and support. #teamdogbus
**We are building our website**
www.dogbus.co.uk
Email: [email protected]
Phone: 07943040970 (uk)
Socials: @dogbus999
Post: please email for full address, thank you
Dogbus Transporting Paws saving lives is a charitable trust with governance from our Trust deed. We are registering as a UK charity with the charity commission, expected completion date by December 2020
All funds raised will go directly towards the shelter build in Romania. Less platform fees 😩
Any kind offers of materials, food, help, organisation, transport and resources, kindly contact Kris via email or phone. (above)