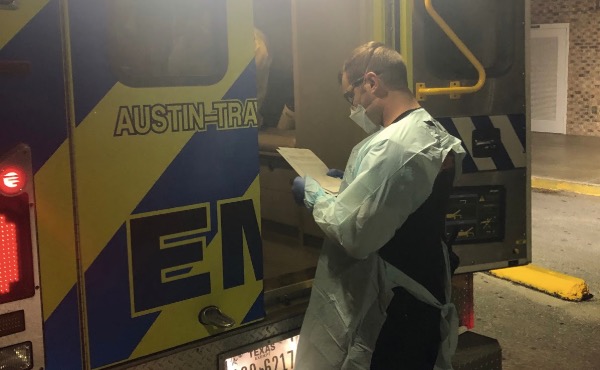 In 2020 and now 2021, none of us expected that our lives would be upended by COVID-19, and our first responders have been significantly affected. There is an overwhelming need right now to ensure that our region has enough medics to respond to the ongoing COVID-19 pandemic, in addition to other medical emergencies like trauma, cardiac arrest, and stroke that threaten the lives of thousands each year.
That's why your support now is so critically important. Your donation, in any amount, will positively impact the lives of Austin and Travis County medics and their families as well as our community at large. Our programs continue to adapt to the present and future needs of our first responders and because of you, we are able to provide support where it is needed most including critical funding for COVID-19 and Emergency Relief, Advanced Training, and Essential Equipment.
COVID-19 and Emergency Relief
Your donation will support those Austin-Travis County medics and their families who have been affected by the pandemic or a recent emergency. Medics who have been exposed, are symptomatic, are quarantined, and/or are unable to work due to COVID-19, or have recently experienced trauma, illness, injury, or loss during their time of urgent need can apply for assistance to help pay medical bills, buy groceries, or help with unexpected expenses.
Advanced Training
Your donation will support training scholarships for Austin-Travis County medics seeking continuing medical education, ensuring that our region's first responders are among the most highly trained and have the best educational resources possible including scholarships for Critical Care Paramedic Certification, Flight Paramedic Certification, and cadaver lab training.
Essential Equipment Fund
Your donation will provide Austin-Travis County medics with the tools they need to respond to life-threatening medical emergencies and allow for the purchase of critical patient care and training equipment that will improve the quality of care—and help save more lives.
The Austin EMS Relief Fund is operated by the Austin EMS Association. Should you prefer to make a donation by check, please mail to:
Austin EMS Association
ATTN: Relief Fund
310 Comal St, Bldg A
Suite 200 #239
Austin TX 78702
Choose amount
Information
Payment






