Fundraising through January 31, 2021
Drepung Loseling Monastery and its sustainable future needs your help.
Since 1991, Drepung Loseling Monastery, Inc. in Atlanta, GA has been dedicated to the study and preservation of the Tibetan Buddhist tradition of wisdom and compassion and its monastic sacred arts and traditions. From our humble beginnings with the Mystical Arts of Tibet tours and a center for Buddhist studies and practice in Atlanta, GA, we have focused on the cultivation of both heart and intellect, providing a sanctuary for the nurturance of inner peace and kindness, community understanding, and global healing.
To ensure the safety to you, our teachers, volunteers, staff and community during this global COVID-19 pandemic, we had closed our center to in-person programming and pivoted to utilizing online technology to continue to offer our programs and teachings. As you probably know, this year the annual Mystical Arts of Tibet tours featuring the Tibetan monks of Drepung Loseling were cancelled and the monks remained grounded in Atlanta through the end of this year unable to travel and share their visual and performing sacred arts with communities large and small nationwide. However, they remained quite active through our online offerings of meditation, chanting, mandala sand painting construction, and prayer services to contribute to the well-being and protection for everyone around the world facing unprecedented challenges this year. In addition, through our on-line courses and retreats, we have been able to offer the ancient wisdom and teachings to many around the world who normally would not be able to attend in-person classes or retreats.
We are reaching out today in our annual year-end fundraising drive for your support. Your support will assist us in offsetting unexpected revenue shortfalls due to pandemic shutdowns and tour cancellations, enabling us to continue to bring our spiritual, educational, cultural and artistic programs to you and everyone around the world. It will also help us attain our long-term goal to offer more programs and interaction with our resident and visiting teachers and monks by establishing a home for them in the neighborhood.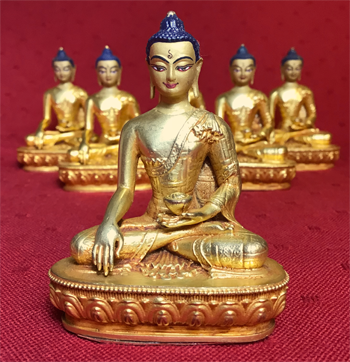 One of our patrons had generously donated 34 specially commissioned small statues of Buddha Shakyamuni (2 ½"H x 2" W x 1 ¼"D) from a well-known statue maker in Patan, Nepal to assist us in achieving our fundraising goals. If you are one of the first 34 individuals to donate $1,500 or more to Drepung Loseling Monastery, you may choose to receive one of these exquisite limited edition hand-crafted statuettes of Buddha Shakyamuni as a gift for your altar, keep with you on your travels or give to a friend.
Learn more about the history of these statues and their process.
In addition, a second generous patron will be matching all donations received up to a total of $20,000.
Thank you for considering joining us in making a new home a reality and keeping our center open so we can continue to bring life transforming programs to you and help preserve the ancient sacred Tibetan spiritual, cultural and artistic traditions at Drepung Loseling Monastery in south India so future generations can also benefit from their wisdom and teachings.
Learn more about us at www.drepung.org
---
Delivery of Statues: Please allow 7 – 14 days for delivery of the statues in the continental U.S. Due to higher holiday shipping demands, deliveries may be delayed. For recipients who live in the metro Atlanta area, arrangements may be made with the office to pick up the statue at Drepung Loseling Monastery or we can ship the statue to an address in U.S. for free through the US postal service. Please contact us to discuss arrangements and cost for any shipment outside continental U.S.

Fair Market Value (FMV): Although for many, these precious statuettes would be considered priceless, we have estimated the fair market value of the goods provided is $125 USD following IRS reporting requirements. The amount of your contribution that is eligible for deduction for federal income tax purposes is limited to the amount contributed less the FMV of $125 USD.